Longtime civil rights leader Benjamin Hooks dead at 85
Associated Press | 4/20/2010, 8:51 p.m.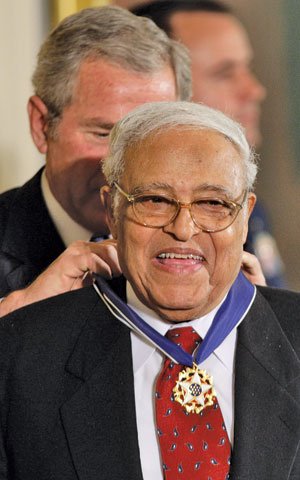 When no law school in the South would admit him, he used the GI Bill to attend DePaul University in Chicago, where he earned a law degree in 1948. He later opened his own law practice in his hometown of Memphis, Tenn.
"At that time, you were insulted by law clerks, excluded from white bar associations and, when I was in court, I was lucky to be called 'Ben,' " he once said in an interview with Jet magazine. "Usually it was just 'boy.' "
In 1965, he was appointed to a newly created seat on the Tennessee Criminal Court, making him the first black judge since Reconstruction in a state trial court anywhere in the South.
"It was a national story for a black in the Deep South to be nominated for a judgeship," he said years later.
President Richard Nixon nominated Hooks to the Federal Communications Commission in 1972. He was its first black commissioner, serving for five years before resigning to lead the NAACP.
"Hooks' career as a Federal Communications Commissioner did change the organization," according to the 1995 book, "Commissioners of the FCC." "He regarded the minorities and the poor as his constituency."
At the FCC, he addressed the lack of minority leadership in media and persuaded the commission to propose a new rule requiring TV and radio stations to be offered publicly before they could be sold. Minority employment in broadcasting grew from 3 percent to 15 percent during his tenure.
He later was the chairman of the board of directors of the National Civil Rights Museum in Memphis and helped create The Benjamin L. Hooks Institute for Social Change at the University of Memphis.
In his last keynote speech to an NAACP national convention in 1992, he urged members who had found financial success to never forget those less fortunate.
"Remember," he said, "that down in the valley, where crime abounds and dope proliferates ... where babies are having babies, our brothers and sisters are crying to us, 'Is anyone listening? Does anyone care?' "
Associated Press writers Yvette Blackman in New York and Daniel Yee in Atlanta contributed to this report.