At the age of 80, Sonny Rollins is still rolling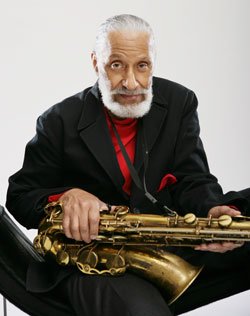 Rollins continued the ebullient momentum with his composition "J.J.," a musical tribute to trombonist J.J. Johnson (1924 – 2001), a mentor and fellow bebop pioneer. Moving the ensemble to an even slower tempo than "Serenade," Rollins framed stretches of lyrical improvisation by Brooms with a series of short notes that rose to blues-flavored release. Each commanding chorus by Rollins led the music in its gradual ascent to a transporting high.
Without a pause, Rollins then began his joyful calypso tune, "Global Warming." Rocking his saxophone, he propelled the ensemble into a party of sound with Victor See-Yuen's congas at its pulsing heart.  
Then Rollins briefly introduced  his fellow players and concluded the concert with a soul-and-body-stirring rendition of his "Blues Jam."
Rollins once told an interviewer, "All art has the desire to leave the ordinary" and reach "a state of exaltation at existence."  
On Sunday night at Symphony Hall, Rollins once again transported his Boston fans into a state of exaltation. As the grateful audience filled the hall with cheers, Sonny said that he hoped to return "Soon. Soon. Soon." As their cheers mounted, he stepped back on stage, not to play an encore but to wave good-bye.