At the age of 80, Sonny Rollins is still rolling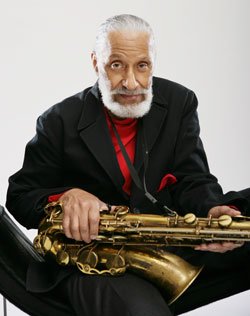 The evening was billed as a birthday concert for tenor saxophone giant Sonny Rollins, but on Sunday night at Symphony Hall, it was Rollins who was presenting the gifts.
Born on September 7, 1930, in New York City, Theodore Walter "Sonny" Rollins is celebrating his 80th year with an international tour. Its Boston stop was at Symphony Hall, where he performed three years ago. Nine years ago, his memorable concert at the Berklee Performance Center four days after the September 11th attacks yielded his Grammy-winning live recording "Without a Song: The 9/11 Concert."  
Accompanying Rollins on Sunday were his long-time bassist Bob Cranshaw and guitarist Bobby Broom, along with Kobie Watkin on drums and Victor See-Yuen on congas.  
During a transporting 85-minute set, Rollins performed six compositions, all but one his own. The selections offered a sort of musical autobiography, drawing from six decades of musical invention that span hard bop, bebop, ballads and blues.
As a young musician in New York during the 1950s, Rollins came up in what he describes as "a golden age" of jazz. By age 20, he was playing with such legends as Thelonious Monk and Miles Davis and breaking new ground with his inventive, blues-based vein of tenor sax music. He wove infectious melodic threads and rhythmic attacks into exalting improvisations, and pioneered the use of bass and drum instead of piano to accompany his epic solos.
All these traits were on abundant display in the Sunday evening concert.
Rollins hobbled as he walked onto the stage; but, as soon as he put his horn to work, which he did the minute he reached a mike, any sign of age melted away. He became a figure of volcanic energy and played nonstop, pausing just once, late in the concert, to introduce his fellow musicians.
Wearing a white tunic-style shirt with a black cravat and black pants, his white hair and beard and omnipresent sunglasses framing his angular face, Rollins had an air of elegance and authority. Often described as "the Saxophone Colossus" (from the title of his seminal 1956 album), Rollins is large in body, spirit and sound. His glittering horn also looks immense, seeming to extend from his mouth to his knees when he tilts it in the course of a heated solo.
Without a word, Rollins began the concert, plunging into his hard-driving composition "Patan Jali." His spare, flat, repetitive notes climbed in incantatory intensity to Bobby Broom's intricate, but barely audible, guitar accompaniment.
The sound system was adjusted in time for the next Rollins composition, "Mensa," which featured a sauntering duet between Rollins and Broom.
Next, Rollins performed "Serenade," a sweet, waltz-inflected composition from a ballet score by Riccardo Drigo (1846-1930). Broom's mastery emerged fully in this number, as he embroidered filigrees of notes while swinging to Bob Cranshaw's dancing bass lines. Taking delight in the skills of his ensemble, Rollins turned the music into an extended dream. Planting deft, short notes in his rich, dark tone, he sustained a light-hearted give-and-take with drummer Kobie Watkin, whose drumrolls, snares, sticks and cymbals sizzled softly, each exchange slowly building to an ecstatic finale.