Major projects coming to Jamaica Plain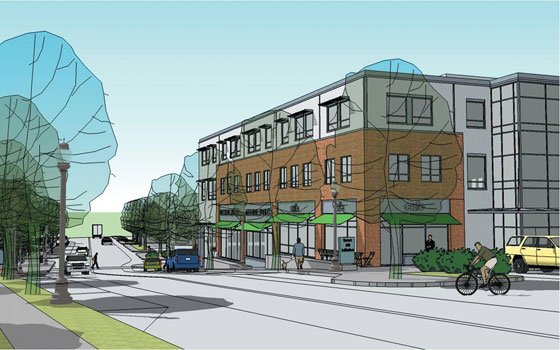 At a meeting of the project's community advisory committee on March 23, community members reviewed design options and generally expressed a preference for preserving the basic configuration of Hyde Square and only reclaiming part of the roadway to become an enlarged sidewalk with added green space. They appeared to reject the more dramatic plans that would reroute traffic in the area.
There was less consensus about Monument Square, and people thought that more area residents and business owners should weigh in before the project moves forward.  
Vineet Gupta, director of policy and planning at the Boston Transportation Department, told the Banner in a phone interview that the conceptual designs for both squares should be ready by this fall, with final design work taking about another eight months. Construction would begin in spring 2012 at the earliest.
"We don't like to proceed with a particular concept and design until we are sure that the abutters feel that they're getting benefits rather than impacts," Gupta said.
The action plan may also include a set of changes to Centre Street between Jackson Square and Monument Square that would include eliminating some street parking to widen sidewalks and add bicycle lanes. That work, consisting largely of repainting lane markers, could begin this fall or early next spring, according to Gupta.
Perhaps the most controversial change planned for Jamaica Plain is the update to the MBTA's 39 bus route, which traverses Centre Street, South Huntington Avenue and Huntington Avenue into the Back Bay, conveying thousands of people between Jamaica Plain and the city center each day.
The bus route, the MBTA's second-busiest, would lose a handful of stops and see others relocated, with the intended benefit of speeding up service that many say is too slow or erratic.
Jeffrey Ferris, owner of Ferris Wheels Bike Shop on South Street, is in the Route 39 Citizens' Working Group.
In a phone interview, Ferris said he was disappointed that the MBTA appeared to focus on specific changes it planned rather than remain open to a wide-ranging discussion of issues, but he was hopeful that the changes would have a positive impact, even though one of the stops being moved was at the intersection next to his shop.
"Not everybody gets a bus stop in front of your door," Ferris said. "When you move one around, somebody gets to walk a little further  and  somebody gets to walk a little bit less; but, either way, there's some walking involved. Walking an extra block isn't necessarily a horrible thing."
The stop Ferris and his customers lost was to be at the edge of the South Street Mall and Courts at the corner of South Street and Carolina Avenue. The basketball and tennis courts there were ripped up, and the existing trees were uprooted to make way for a redesigned park. The park will include upgraded athletic courts and green space with park benches, tables and a new decorative fence designed by local artist Beth Galston.
Less than a mile south of Carolina Avenue, efforts are underway to develop the first two of four MBTA-owned lots adjoining the Forest Hills terminus of the Orange Line. The plans are the first stage of a long-gestating project, the Forest Hills Improvement Initiative.
The Arboretum Place development proposed by Jamaica Plain-based WCI Realty would include a set of new developments on Washington Street southwest of the Forest Hills MBTA station. In a phone interview, WCI President Kevin Walker explained that the development is now awaiting approval of a zoning change to permit retail and commercial use on land currently zoned as open space. The board of the Boston Redevelopment Authority planned to review the proposed change this week.
Walker said that the city had so far been very cooperative and supportive of the plans and that neighborhood residents largely welcomed the development, which could include a neighborhood grocer.
"The majority of people are excited about adding retail to the Forest Hills area, and commercial space," Walker said.
If WCI receives all the necessary approvals, construction on Arboretum Place could begin by early fall.