Dining out:
4/7/2010, 4:59 a.m.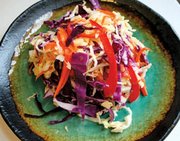 Healthy ways to enjoy fast food while dining out and at home
Busy families rely on fast food, take out and local restaurants to supplement home-cooked meals. Today, average Americans eat one-third of their calories away from home — almost twice the amount in the 1970s. According to the U.S. Department of Agriculture, families also spend almost half of their food dollars on away-from-home food.
Surveys have shown that low-income neighborhoods have more fast food restaurants than upper-income neighborhoods. The high concentration of fast food restaurants may increase convenience, but families are challenged to find healthy and appealing food offerings in the limited menu offerings of fast food restaurants. Advertising also affects our food choices. In 2007, the Kaiser Family Foundation determined that 8- to 12-year-old children watch more than 20 food advertisements daily. Food advertising targeted to youth places parents in an uphill battle to encourage their children to select non-advertised healthy options. Here are a few tips for parents when eating out with your children.
• Plan ahead. Select a restaurant that includes fruits and vegetables on the menu. Set guidelines for food item selection beforehand with your children. Use the Web sites of national chain restaurants to review the nutritional quality of entrees. Look for entrees that are lower in calories and saturated fat. Examples of chain restaurant Web sites: http://www.mcdonalds.com/usa/eat/nutrition_info.html; http://www.kfc.com/nutrition.
• Select the vegetable entrée first and build the meal around that. Vegetables available at some fast food restaurants include salads, carrots and celery sticks, corn, green beans, greens, potatoes and other items. If French fries are selected, opt for the smallest size or plan on sharing a larger size.
• Avoid "supersized" portions. Child-sized meals may be sufficient for older children and adults as well.
• Select baked, broiled or grilled entrees and avoid fried foods. Having the grilled chicken breast instead of the breaded and fried breast can save as many as 200 unwanted calories.
• Go easy on the cheese on pizzas and select the thin crust rather than the thick crust. Add lots of vegetables as toppings — peppers, onions, spinach, etc.
• If soup is available, start the meal with  soup. Soups often contain vegetables, and the liquid will give a sense of fullness to prevent overeating.
• When you can, select a full- service restaurant rather than a fast food restaurant. There will be a greater variety of selections and more vegetable options.
• Try making some of your restaurant favorites at home, but with a healthy twist. Examples might include oven-"fried" chicken, oven-roasted potato wedges and healthy cole slaw.  These are tasty and healthy alternatives to soul food staples.
Below are two tasty and easy recipes.
Kid-Pleasing Oven Fried Chicken
Serves 4
Ingredients:
4 each — 4 oz. boneless, skinless chicken breast, cut into nuggets
1 cup flake-type cereal, crushed
½ tsp each onion powder, garlic, black pepper, parsley leaves, thyme, paprika
1 egg, beaten
Directions:
1. Preheat oven to 375 F.
2. In a bowl, combine cereal and seasoning.
3. In a separate bowl, beat egg to create an egg wash.
4. Dip chicken in egg wash, and then coat in cereal mixture.
5. Arrange chicken on a non-stick sheet pan
6. Bake at 375 F for 20-25 minutes.

Nutrition Facts:
Per serving (makes 4 servings): 140 calories, 1.5 g total fat (0.5 g saturated fat), 6 g carbohydrates, 1 g dietary fiber, 28 g protein, 0 mg cholesterol, 200 mg sodium.