A great show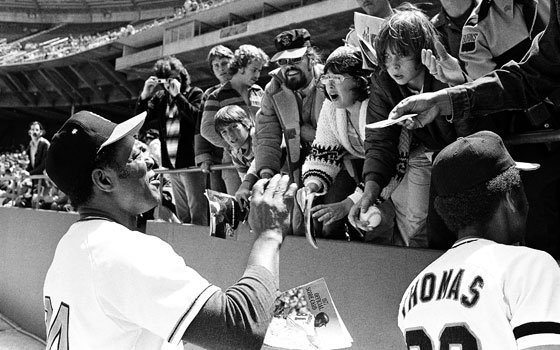 By all accounts, Willie Mays modernized baseball. He was the first big leaguer to combine the glamorous home run ability of Babe Ruth with the daring base-running of Ty Cobb. His success led National League teams to build their lineups around swift black and Latino stars. He made superhero catches, and Herculean throws.
Hirsch paints vivid details of some of Mays' most memorable plays, unique not merely for their athleticism, but for their high baseball intelligence. Those who cite Mays as baseball's ideal five-tool player (one who could hit, hit for power, run bases, field and throw), overlook a sixth and most important element that triggered those storybook feats — Mays' anticipation and baseball sense.
No other outfielder briefed their pitchers on rival batting orders, or positioned teammates for batters. Mays ran bases not only with his own progress in mind, but to engage fielders while his teammates advanced. Such acumen set him apart from even Babe Ruth, Hank Aaron, and batting scientist Ted Williams.
Hirsch chronicles the racial slights his subject faced in segregated minor league towns and from managers and journalists. Of such incidents, Mays adopted his father's attitude (and in Hirsch's opinion, prevailing Southern convention) of "Just play hard."
When Jackie Robinson publicly denounced him for his silence on race relations, Mays pointed to his involvement with boys' homes and  Job Corps, and in the individual lives of troubled youth such as a then-14-year-old juvenile offender named O.J. Simpson.
When a section of San Francisco erupted in riots in 1966, his public service announcements about a hastily planned Giants game telecast from Atlanta helped restore calm.
Hirsch reveals Mays' feelings: disappointment when harangued or benched by a manager; disbelief when the Giants abandoned New York for San Francisco; and disdain when asked to make personal appearances or memorabilia without compensation.
His loyalty to teammates, owners  and especially young fans engendered forgiveness others found incomprehensible. Mays met injury, bigotry and divorce without complaint. His character was never more evident than when he helped defuse a notorious 1965 brawl in which his teammate, pitcher Juan Marichal, clubbed attacking Dodger catcher John Roseboro with a bat. Mays tackled his teammates entering the fray. He calmed a bleeding Roseboro and escorted him to the Los Angeles bench, speaking words of reason while cradling his wounded head like a brother would.
Mays' love of the game was transparent; he battled off-season fatigue to play winter ball in Puerto Rico and Japan, and led barnstorming tours featuring black major leaguers until 1962, long after such spectacle was routine.
Despite his on-the-field intelligence, Mays made poor off-the-field choices. He purchased homes and furnishings beyond his means. Friends believed his first wife, the twice-divorced Marguerite Chapman, was materialistic and aloof. His second wife, the former Mae Allen, is unanimously considered a godsend (whom Mays now cares for, as she has Alzheimer's disease). Mays' relationship with his adopted (first marriage) son Michael, while attentive when the boy was small, is not as intimate these days.
In retirement, Mays found work as a promotional greeter at a Las Vegas casino, a decision that earned him a six-year ban from major league baseball. He lent unfailing support to godson Barry Bonds when accusations of steroid usage swirled around the son of Mays' former outfield protégé Bobby Bonds.
On May 6, 2010, the kid who loved Harlem stickball turns 79. If the figure sounds improbable, it is because numbers have never been sufficient to describe one of the greatest players of the last century.
Bijan C. Bayne is a frequent contributor to the Bay State Banner.