Banner Biz QandA
4/1/2010, 11:12 a.m.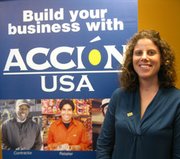 Q: What is microfinancing and why the demand in this country?
A: The United States is rich with microentrepreneurs — owners of the smallest of businesses, typically with fewer than five employees and capital needs of less than $35,000.  According to research, more than 10 million of these entrepreneurs, primarily minorities and women, lack access to small business capital.  Microfinance — the provision of small loans, often less than $10,000, helps these small businesses grow.
Q: Why don't entrepreneurs use commercial banks?
A: While the formal banking sector provides loans to small businesses, and government programs such as the Small Business Administration (SBA) seek to increase their availability, many entrepreneurs cannot access these mainstream sources of capital.  Frequently, businesses are not able to obtain bank or SBA loans because:
• The loan request is too small for the banks to consider;
• The borrower's credit history is insufficient;
• The borrower's business has not been in operation for a sufficient amount of time. (Typically, banks require at least two years in operation.)
These challenges prove especially daunting for minority and women entrepreneurs who must also overcome existing or perceived cultural barriers.
Q: Is microfinancing big enough to solve the problem?
A: While microfinance in the U.S. has a strong foothold, the industry has not yet risen to scale. Of the 10 million small businesses in the U.S., the Association for Enterprise Opportunity reports that microlenders are reaching only 2 percent of the individuals in need of their services. High operational costs in the U.S. greatly limit the ability of microfinance institutions to expand into additional underserved markets.
Q: ACCION USA is an industry leader. What is its loan volume, and what is the average rate of interest charged?
A: ACCION USA's core product is small business microloans from $500 to $50,000, with a current loan average of $8,500. Our loan terms allow for up to 60 months for repayment, either in installments or in a balloon. Annual interest rates range from 9 to16 percent (average is 12 percent). Closing costs and service fees of 3to 6 percent of the loan amount will be financed.
Q: What kinds of companies have obtained loans in the past?
A: Our clients are the owners of local coffee shops, restaurants or the small grocery store around the corner.  All of our borrowers have the potential to succeed — and all have experienced barriers in accessing traditional bank credit. Although ACCION USA provides credit without discrimination to everyone who meets our lending criteria, we specialize in working with those who most often lack access to credit — women, immigrant and minority business owners.
Q: What industries are off-limits?
A: Businesses that engage in weapons sales, real estate development, money lending or financing, multi-level marketing programs, illegal or polluting activities or adult entertainment are among those that are not eligible.
Q: What is the process for obtaining a loan?
A: Typically business owners apply for a loan with us online at www.accionusa.org.  Once the online application is submitted, our loan consultants will review it within 24 hours to determine if the applicant meets our basic requirements, like having a credit score over 575 and not having more than $3,000 in outstanding debt.