Prelim shows racial vote splits, increasing turnout
Yawu Miller | 9/30/2009, 5:48 a.m.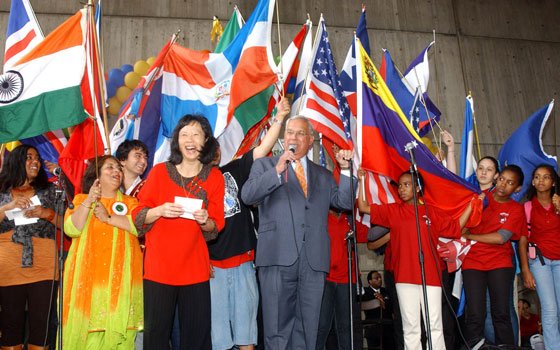 The strong showing from black and Latino candidates followed weeks of door-knocking, literature drops and outreach from well-organized, well-financed campaigns. Several debates sponsored by local nonprofits and news organizations, including the Banner, also helped spur voters' interest in the race, according to political activist Mimi Jones.
"When I went to my first forum, my mind was wide open," she said. "When I went into the voting booth, I had narrowed it down to four."
Turnout in the city's black, Latino and Asian neighborhoods matched the citywide average of 23 percent, according to an analysis released Monday by MassVOTE. By comparison, West Roxbury saw 35 percent turnout. The higher turnout in the predominantly white ethnic neighborhoods gave incumbents Connolly and Murphy an enviable boost.
Connolly garnered 6,163 votes in West Roxbury — more than Arroyo received in wards 8, 9, 12, 14, 16 and 17 combined.
But the leads enjoyed by Connolly and Murphy in the preliminary could very well shrink in the November election, when higher percentages of black, Latino, Asian and liberal white voters are likely to go to the polls.
In the 2005 election, Arroyo's father, Felix D. Arroyo, rocketed from a fifth-place preliminary finish to second place in the final, coming within 5,000 votes of at-large leader Flaherty.
The fact that two blacks and two Latinos will be vying for voters' four choices along with three Irish candidates and newcomer Bennett could also draw away votes that would normally go to the white incumbents.
In the mayor's race, Menino's bulletproof name recognition may be what ultimately gave him such a wide margin of victory over his challengers, according to political activist Sarah-Ann Shaw, who serves as secretary on the Ward 12 Democratic Committee.
"He comes to a lot of events in the community," Shaw said. "He shows up. It's very hard to unseat an incumbent because they have a certain amount of media access that a challenger doesn't have."
Media access didn't provide enough of a boost for Carlos Henriquez to outpace incumbent Chuck Turner in their race for the District 7 City Council seat.
Turner received 52.6 percent of the vote to 23.9 percent for Henriquez, who received endorsements from the Boston Herald and Boston Globe before the preliminary. Perennial candidates Althea Garrison and Roy Owens received 14 percent and 9 percent of the vote, respectively.