Masses pack Hub for '09 BeanTown jazz festival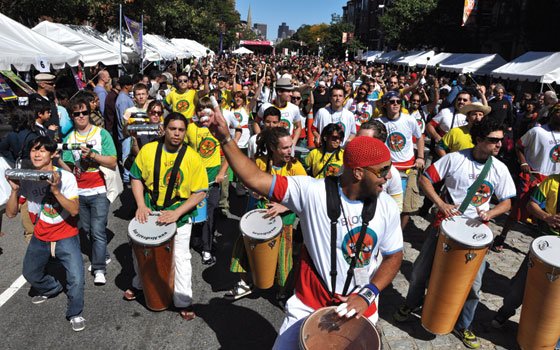 Every band claimed its crowd, including popular student ensembles led by Berklee faculty. These units included bassist Lenny Stallworth's spirited Berklee P-Funk Ensemble and the Berklee Tower of Power Ensemble, a tribute band helmed by trumpeter Wayne Naus that featured Little Joe Cook, one of Boston's top RandB singers.
Weaving Cuban traditions into post-bop orchestrations with horn flourishes worthy of a Mariachi band, the tropical-flavored ensemble of bandleader Jane Bunnett featured her sinuous soprano saxophone solos and the intricate, driving rhythms of Cuban pianist Elio Villafranca.
The ensemble Defenders of the Groove showcased two debonair elders at the top of their game, vocalist Ernie Andrews and saxophonist Plas Johnson, accompanied by guitarist Melvin Sparks. Wearing a white suit jacket, Johnson opened with "The Pink Panther" theme, which he recorded with Henry Mancini for the classic film and its many sequels. Here, he turned it into a complex, rich improvisation.
As an audience squealed to the Tower of Power tribute a block away, Andrews strode on stage, attired in a crisp black suit and a smart matching cap. With a rich, resonant voice that combined the velvet depth of Joe Williams and the playful agility of John Hendricks, Andrews, 81, offered his own blues tribute. He sampled the styles of late blues greats Charles Brown, T-Bone Walker and Big Jay McShann, earning three standing ovations.
People leaving the festival lingered for the pulsing, infectious finale by Puerto Rican percussionist Eguie Castrillo and his 18-piece orchestra, an ebullient mambo machine modeled on the big band of the late superstar percussionist Tito Puente.