WEB EXTRA: Huge slate of at-large candidates share spotlight at South End forum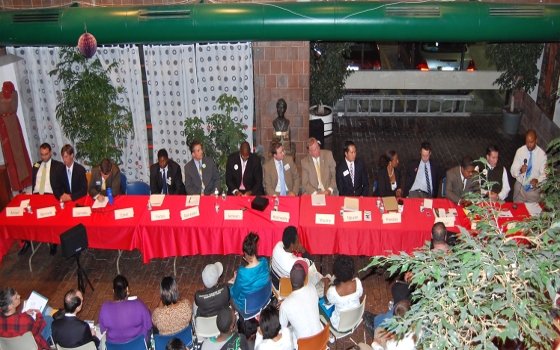 Tito Jackson said he is the only candidate who has actually created jobs through his work as industry director for information technology in the state's Executive Office of Housing and Economic Development under the Patrick administration.
Bill Trabucco, an emergency medical technician from Dorchester, was also in attendance at the forum. Tomas González, former Latino community liaison for Mayor Thomas M. Menino, arrived late and missed the first question.
The other incumbent at-large councilor running for re-election, Stephen Murphy, drew laughs when he joked about his senior status in the candidate group.
"I used to go around saying, 'Give a young guy a chance,'" he said. "'But now I say, 'There's no substitute for experience.'"
On education, the candidates were asked how they would reduce the dropout rate and narrow the racial gap in academic achievement in the Boston Public Schools (BPS).
Arroyo framed the issue in stark terms: "The achievement gap means students of color are doing far worse than the white students. But when the school system is 85 percent students of color, what it really means is we are failing the majority of kids that use the school system."
González noted that 50 percent of the city's high school dropouts are English language learners.
"We don't have dual-immersion programs after fifth grade," he said. "That's the kind of thing we need, a long-term commitment to help kids who come to this country, who want to be here."