Hub educator pens first children's book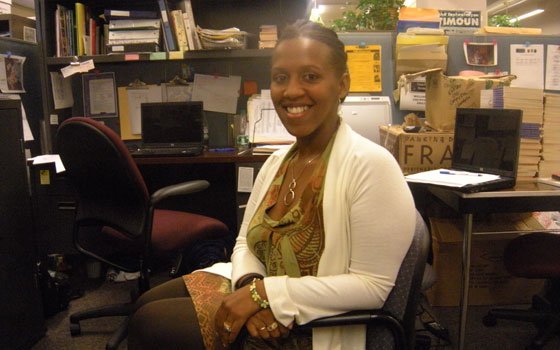 "I knew going in [that] Southie wasn't the best school academically, but I was determined to succeed," said Wade.
She went out of her way to join various academic clubs, including the school's honors program; the Urban Scholars, an academic enrichment program based out of the University of Massachusetts, Boston; and the Posse Scholars, a nationally renowned college preparatory and youth leadership program for public high school students. She also began taking pre-college courses to help put her on the scholastic fast track.
Wade said that the lack of academic rigor was not the only challenge she faced at South Boston High. At first, she recalled, she was somewhat apprehensive about being a black female going to school in a predominantly white neighborhood.
"I noticed some things were different, but it was subtle," she said.
They could sometimes be less subtle, she said, during her daily travels from Dudley Square to South Boston.
"I was a bit shaky at first, but over time I was able to adjust," said Wade.
And also, to thrive. By the time she graduated from South Boston in 2000, not only had she made the most out of the opportunities the school had to offer, she was named the school's valedictorian.
After graduating, Wade attended Bowdoin College in Brunswick, Maine, where she majored in sociology and women's studies. Again, she faced a distinct change in both the ethnic and cultural makeup of her new school.
"When I was at Bowdoin, it felt like you could count the black students on one hand," said Wade.
She leaned heavily on her fellow Posse Scholars for support, and after about a month on campus, she said, she was able to figure out her place at Bowdoin and what she needed to do to meet the college's academic expectations. The social adjustment was not far behind.
Nor, Wade said, was her foray into writing.
"I took a class about children's books as a part of literacy," she explained. The coursework led her to begin working on a children's book of her own while in college, which would eventually become "Lucy Finds Her Moo." At the time, though, she didn't give any thought to trying to get the book published.
After her graduation from Bowdoin in 2004, Wade felt pressure from her family to enter the field of education and become a teacher. At first, though, she said the idea made her feel uncomfortable.
"I don't think teachers get paid enough for the emotional dedication and commitment that is expected of them," said Wade.
Instead of teaching, Wade worked for a business-to-business marketing firm located in Malden, Mass. Wade reasoned that she would eventually make her way back to working in education, so she should try to make money coming out of college.
By 2005, though, she had grown dissatisfied with her job at the firm. One of her sisters, Ketilya Felix, who was a pre-school teacher at the Dimock Early Head Start program in Roxbury, suggested she take a job there. As a pre-school teacher there, Wade found her love of children and teaching growing.