Thousands flock to Hub to mourn Kennedy's loss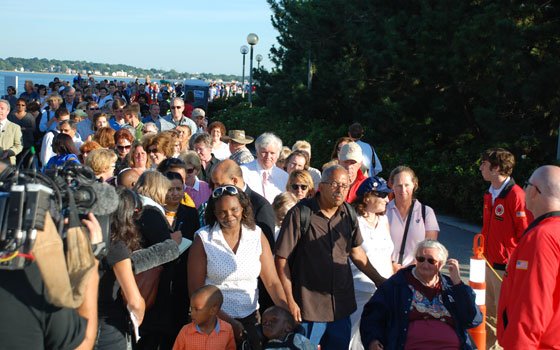 "That was an all-American stance," said Haynes, who hosted the senator on numerous occasions at his Roxbury church. "He touched the heart of the community during the worst racial crisis ever to tear apart … the fabric of the city."
Sen. Kennedy's impact on national and international issues drew just as much praise.
The Rev. Martin Luther King III, moments after emerging from the church, remembered Sen. Kennedy's fight to override President Ronald Reagan's veto of a national holiday in honor of his father.
"I had to be here because of the courageous stand he took throughout his life on civil rights and his fight for the Martin Luther King holiday," he said.
The Civil Rights Act of 1964, the Voting Rights Act of 1965, and the Fair Housing Act of 1968 all bore the senator's stamp.
So did the Anti-Apartheid Act of 1986, which Sen. Kennedy ushered into law after cobbling together the votes to once again override the veto of the popular sitting president.
One of the first stops in Nelson Mandela's triumphant U.S. tour after his release from prison on Robben Island was the Kennedy Library, where Sen. Kennedy gathered him in a warm embrace. Mandela acknowledged the profound impact that the economic blockade of the apartheid regime had in tearing down the walls of racial division in South Africa.
Medicare, Medicaid, the minimum wage, women's rights and workers rights were all expanded and protected during Sen. Kennedy's 47-year Senate career.
Sen. Kennedy's influence was felt in other ways as well, like his commitment to diversity, providing hundreds of young African Americans with jobs as the starting point of long careers in public service. Ron Brown was among the most prominent, going from Sen. Kennedy's Washington staff to eventually head up the Democratic National Committee during Bill Clinton's successful rise to the White House and then on to the Clinton cabinet.
"His attention to hiring from our community was a practice started by his brother, John F. Kennedy," said Haynes. "As a young congressman, he hired a member of the Twelfth Baptist congregation, Virginia Tabb, who went with him to Washington and never returned. Peter Parham from Roxbury, one of my interns on Beacon Hill when I served in the state Legislature, was hired by Ted Kennedy and went to Washington as well."
Sen. Kennedy was also remembered for his advocacy for fair immigration laws and for his fight against heartless bureaucracies to allow loved ones to unite. Haynes turned to Sen. Kennedy when the State Department blocked a visa for his adopted Somalian son, Abdi Mohammad Ali, who is now a teacher and a citizen. In the last presidential election, he voted for Sen. Kennedy's candidate and eulogist, Barack Obama, "the skinny black kid from Chicago with a funny name."
Sen. Kennedy did much more. He fought against judicial appointees like Robert Bork and Clarence Thomas who opposed his broad vision of social equality and inclusion. He backed the appointment of black judges like David Nelson of Boston and Joyce London Alexander Ford to bring diversity to the bench. He stood up for gay rights. He fought against the death penalty and sentencing laws that disproportionately targeted black defendants and contributed to the rise of the prison industrial complex.