'Something green is growing here'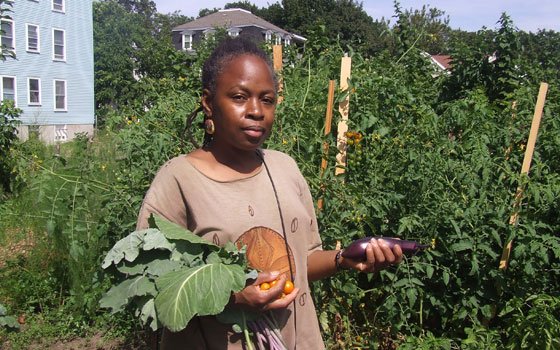 "More black people need to be growing their own food because it's cheaper, we get more Vitamin D by being in the sun gardening, and most importantly, we are giving back to the land," she said as she picked fresh collard greens from her patch. "More people need to know how to sustain themselves, and this is the way to do it."
Jordan doesn't own a car, and the nearest supermarket is a long bus ride away. When she does go to the supermarket, she said, most of the options on the shelves are highly processed and too expensive for her taste.
The Food Project, one of the country's leading organizations working on food equity, runs a 1.4-acre farm on West Cottage Street that employs about 60 local youth leaders every summer and allows residents like Jordan to grow their own food.
Neighbor Felicio Pina roams the gardens during the day, watching out for potential burglars. He also grows corn and green beans on the land. In fact, he said, his thick, green corn stalks grow taller than others because his seeds come from his native Cape Verde, where food is grown more naturally and with no genetic modifications.
"Something green is growing here," Pina said in broken English. "The food here is bonita."
In fact, something green — and yellow, red, purple and orange — is growing in Dorchester. Gardens of all types and sizes are popping up all over this neighborhood, with some residents using part or even all of their yards to grow fruits and veggies like tomatoes, eggplants, grapes, carrots and raspberries.
Carlos Gonzales, assistant manager of the Leyland Street community garden, said that he has seen a unification of people of different racial groups in the area.
"All kinds of people farm here — Puerto Rican, black, Cape Verdean — and they share their food and gardening tips with each other," Gonzales said. "Food brings people together because everyone has to eat, and they want to be able to eat healthy and take care of the earth."
Gonzales said he has been farming since he was a child growing up in Puerto Rico, where he still owns farmland. In his Dorchester garden, he grows purple hull peas, believed by botanists to have originated in the West African nation of Niger, and "gandules," or pigeon peas, a popular ingredient in many Caribbean dishes.
"My garden is purely organic," he added. "No chemicals here — just nature's food."
This is the type of thinking that Scotland Willis, sustainability consultant and candidate for an at-large seat on the Boston City Council, said he would like to see more of in the community. Willis, who has a tomato garden in his yard, said he would like to start a working group that generates community leadership on green issues, especially food management.
"Like the digital divide, there is an environmental divide in the community," Willis said. "We need to take effective steps to address problems that impact our health and environment."
For her part, Dorchester resident Jordan is taking the lead on addressing the food system in her neighborhood. She said her next step is to take a formal course in gardening and learn about worm composting.
"My garden inspires me every day, and I hope others will be, too," she said.
Talia Whyte is a 2009 Urban Environmental Justice Fellow of the Institute for Justice and Journalism at the University of Southern California.