Arts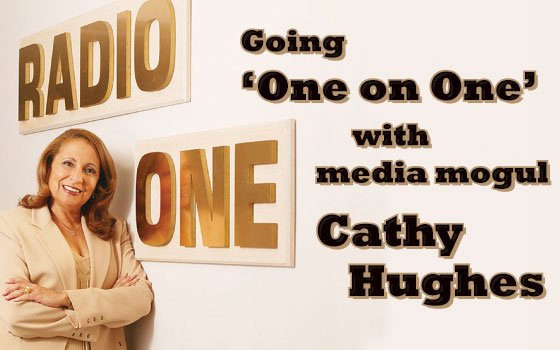 But before you get to Gabrielle Union, don't forget that Malcolm X was born in Omaha.

That's right.

Also [Pro Football Hall of Famer] Gale Sayers, [Baseball Hall of Famer] Bob Gibson and Heisman Trophy winner Johnny Rodgers. You have to realize that black people are about 20 percent of Omaha's population, and that everybody knows just about everybody else when you're out in the country in a farming state like Nebraska.

How did you get your start in radio?

I was working for the affirmative action arm of the Ford Foundation in a program called Project Equality. I became a volunteer for the group of investors who got a grant to start Omaha's first black radio station. That's really how I got my foot in the door in radio.

Eventually you moved to in Washington, D.C., and met and married Dewey Hughes, and were co-owners with him of WOL. He was played by Chiwetel Ejiofor in "Talk to Me," the biopic about radio DJ Petey Greene. How did you feel about not being mentioned in the movie?

I knew Petey and did marry Dewey, but I wasn't on the East Coast during the era that the [movie] covered. I hadn't met either of them yet.

You work both on the air and as a businesswoman, the brains behind the operation. How do you primarily see yourself?

As an entrepreneur.

How would you say your company is different from Black Entertainment Television (BET)?

Well, we're interested in an entirely different demographic. We're 30 and over. BET is younger. We have a mandate: no music videos. [BET is] teen-oriented and has built [its] legacy on music videos. We are more of a family network. We try to have a little of something for everyone, content that parents can enjoy with their children, and that Grandma and Grandpa can enjoy also.

How would you describe TV One's mission?

To present a positive and correct representation of who we are and what our culture is all about.

How do you account for all your success?

I don't account for it yet. I'm a work in progress. I think many people prematurely declare themselves successful. To me, success is judged on your final day. If you've helped more people than you've hurt, then I think you've had a successful life.

How would describe TV One's business approach to television studios and production?

I think the wave of the future in television will be in outsourcing your studio needs. The days of seeing a BET soundstage that's basically sitting empty on New York Avenue in Washington, D.C., are over, because all of that equipment can be taken to the junkyard since it's outdated. Nowadays, if you buy something in January, by May it's obsolete.
Technology is moving so rapidly that it's not a wise investment at this time, although at some point it may hit a plateau and studios may once again become in vogue. The big boys can afford it, but the best approach for a small operator like us is to outsource our production to other facilities.

Where do you hope to see TV One five years from now?

Our goal is to [be available in] 100 million households by then. We're already halfway there, which is pretty astonishing in such a short time. … We'd like to have some additional channels like other networks. The cable industry did [viewers] a disservice by having BET as the only black cable network for 25 years.

Meanwhile, NBC has over a dozen channels: NBC, MSNBC, CNBC, truTV, AMC, Telemundo, AandE, etc. And CBS, ABC, Fox and CNN each have multiple channels, too.

That's exactly the opportunity we want. It's time for the cable industry to change to also allow cable owners of color to have multiple stations comparable to what those networks have. It's been documented by research that black viewers are the cable industry's most loyal viewers. Black folks deserve alternatives, options and variety, because we are not a monolithic community.

As the owner of Radio One, how do you feel about the federal legislation in the House of Representatives proposing to charge radio stations to play records?

I am opposed to it, because it could put many black-owned radio stations out of business and force others, like ours, to abandon their commitment to provide free music, entertainment, news, information and money-losing formats. It would force us to stop subsidizing gospel and black talk. My bill would be roughly a million dollars a month. With that money, I'd rather hire back the hundreds of employees I've had to lay off lately.

Are you ever afraid?

The answer to the question is yes, because although I'm an entrepreneur, I'm also a performer, since I host a show on TV. I think that talent who has to go before an audience is only good if they are scared. I think fear motivates us to be better this time than we were last time. If you don't have a certain level of anxiety, I don't think you can push yourself to be better.

Who's at the top of your hero list?

My mother Helen is my "she-ro." She was a very accomplished musician, a jazz trombonist with the International Sweethearts of Rhythm, who became a nurse and later entered college for the first time in her 50s. And she got her master's degree to become a social worker. She really, really, really showed all four of her children that you could achieve whatever you make up your mind to do.
Other then her, my "she-ro" would be Oprah. I think it's wonderful how Oprah uses her resources to better humankind.

Cathy Hughes hosts "TV One on One," which airs Thursday mornings at 10 a.m. on TV One. For more information on Hughes, the show and the network, visit http://www.tvoneonline.com.