Supporters of foreclosure bills crowd State House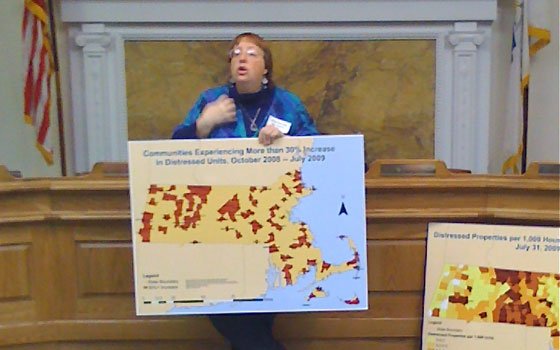 Mary Ann Clancy testified on behalf of the Massachusetts Credit Union League in opposition to judicial foreclosure. She said the added regulation and cost of a judicial review requirement would hurt credit unions, which were not at fault for the foreclosure escalation.
She also noted there are now about 30 foreclosure-related bills in six different legislative committees, and urged the Judiciary Committee to "take a leadership role" to prevent a "patchwork response" to a serious issue.
Just before the hearing, the Mass Alliance Against Predatory Lending (MAAPL), a statewide coalition of community and legal services agencies, hosted a "speakout" at the State House to draw attention to the human toll of foreclosure.
Evicted tenants and homeowners struggling to stay in their homes expressed their pain at the speakout and asked for help.
"The bank took the house and they only gave us one month to leave," said a tenant in a foreclosed building in Chelsea, "We don't have any place to go."
Marie Degand told of her fight to keep her home in Medford. She said she paid $3,300 a month for the first two years and then found out her monthly payments were going up to $4,500. She fell behind and has been unable to renegotiate her loan.
"I have seven kids, five grandkids. I work two jobs," she said, fighting tears, "I work too much — and now it's for nothing."
Speakout organizers stressed the need for the legislature to move the bills quickly toward resolution.
"Behind every legislative bill is a human story, someone who's being hurt," said Grace Ross, a coordinator with MAAPL.
"The problem is multiplying because the legislature hasn't put a stop to anything," Ross said. "If they had acted earlier — some of these bills were filed a year and a half ago — you would really see a difference by now."
Judiciary Committee members had few questions during Thursday's testimony. Their next step is to scrutinize the bills and the testimony, said a Committee spokesperson. There was no word on when any of the foreclosure bills might move to the Senate or House floor for a vote.