Supporters of foreclosure bills crowd State House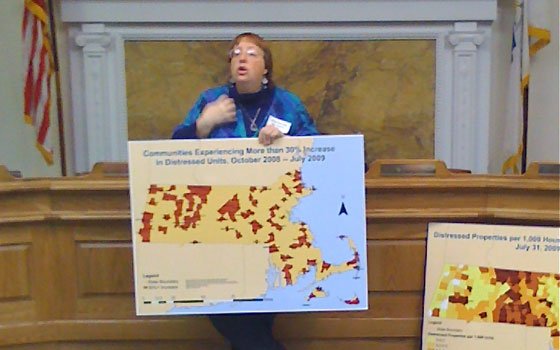 Housing advocates and residents facing foreclosure gathered at the State House last Thursday to voice support for several bills aimed at slowing the foreclosure rate and making the process more equitable for homeowners and tenants.
The hearing before the Joint Committee on the Judiciary drew an overflow crowd of legislators, homeowners, tenants, community organizers, legal aid and real estate attorneys, small property owners and lending industry representatives.
"Under current state law, tenants can be evicted without just cause—leaving our most vulnerable residents on perilous ground," said Sen. Harriette Chandler (D-Worcester), one of the main sponsors of Senate and House legislation that would protect tenants in foreclosed properties from eviction without cause.
"You have to do something to help the tenants in foreclosed properties," pleaded Gladys Vega, a community activist from Chelsea who blamed part of the problem on  "predators."
"I was proud that we were staying stable. Things were better for tenants," she said. "But it has gone downhill because tenants have to leave the properties."
Other foreclosure-related bills up for discussion included an act to establish a foreclosure mediation process, whereby homeowners could demand a face-to-face meeting with their lenders; a six-month moratorium on foreclosures to allow time for loan modification negotiations; and a judicial foreclosure act requiring court approval for foreclosures.
Speakers supporting the judicial foreclosure bill cited the recent ruling by Justice Keith C. Long of Massachusetts Land Court that invalidated two Springfield foreclosures because ownership of the mortgages was not clear at the time of the foreclosures. The decision may put hundreds of sales of foreclosed properties in jeopardy.
 "If we had a judicial foreclosure law, as do 25 other states, these [problems] would not have been an issue," said Nadine Cohen, an attorney with Greater Boston Legal Services. She testified along with Eugene Berman, chair of the Hampden County Bar Association Foreclosure Prevention Task Force, and Suffolk Law School professor Kathleen C. Engel. "We need judicial foreclosure to protect owners and anyone buying property," Cohen said.
A Chelsea family was a case in point. Through an interpreter, they told of purchasing a foreclosed property recently, only to find out — after moving in — that it had been sold to another bank at the same time. On top of the trauma of losing the house, they are worried they have lost the $3,000 they paid the realtor.
Evelyn Friedman, director of the City of Boston's Department of Neighborhood Development, spoke in favor of House Bill 3522 that was promulgated by Mayor Thomas Menino and sponsored by Rep. Liz Malia (D-Jamaica Plain). The bill covers tenant protection and mediation, and allows cities to institute an abandoned properties registry, as Boston already has, requiring contact information for an owner or manager to be posted in all foreclosed and vacant buildings. Boston's program has been successful in forcing owners — mainly lenders — to maintain properties, Friedman said.
Opponents of some of the bills said increased paperwork and administrative costs for lenders could make it more difficult or expensive for new homebuyers to get loans.