MAMLEO gives Menino no confidence vote
Yawu Miller | 10/21/2009, 6:03 a.m.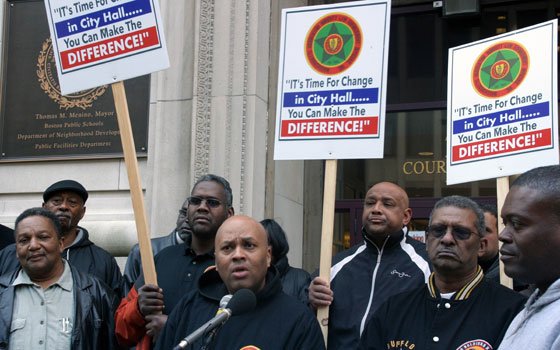 Of the department's 2,177 officers, 34.6 percent are minorities, down from 35.9 percent under the last commissioner.
While the department relies on civil service exam scores for promotions, the commissioner has the power to appoint officers to command positions as well.
Officers in MAMLEO have asked that the department use a wider range of criteria for promotions, including an officer's record of complaints or commendations.
MAMLEO President Larry Ellison and other officers met with Menino and Davis last week. Elison said the mayor and commissioner did not offer concrete changes, but offered to make promotions of individual officers.
Davis told the Globe that the department had promoted one black officer and one Latino officer to sergeant detective.
"Once they found out we were going to be doing this standout, they wanted to meet," Ellison said. "The mayor has never met with us in his 16 years as mayor. I told them what they offered us wasn't going to be acceptable to my membership and they objected to it in a vote on Thursday and again on Saturday."
Monday afternoon 40 black and Latino police officers from MAMLEO canvassed Mattapan Square, handing out leaflets detailing their allegations against the Menino administration, Ellison said.
"People were very receptive," he commented. "They had no idea how bad it is."