Arts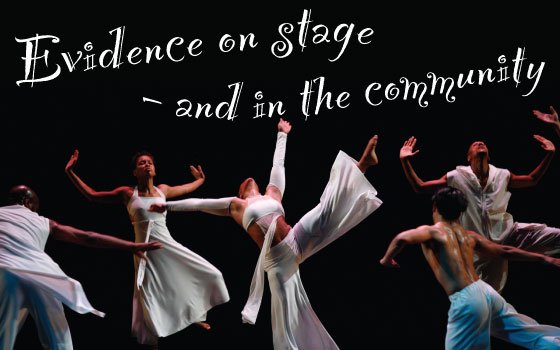 Wearing white robes, Quin, Young and Ott suggest women at different stages of life. With her large body and regal bearing, Ott had the aura of a matriarch. Tai, a girl, wears a simple beige dress.
The dance opens with a long solo by Tiffany Quinn, whose eyes sparkle in the evocative lighting by Brenda Gray. Behind Quinn, as if performing a ritual, Young and Ott tenderly minister to the girl in a pool of light. As all four gradually move into a dance that evokes the life-sustaining bonds among women, Quinn performs a wondrous transformation from a vigorous woman in her prime into the figure of an old woman bent from labor, still moving with no let up in power.
After the performance, a woman in the audience  said, "You see the strength of these women; but also the shadow of slavery that we all still feel."
Commenting on Brown's distinctive movement vocabulary, Boston Arts Academy senior Judelle Cummins, a dance major, said that unlike other companies, "They are way beyond just doing high extensions or turns. It's about the feeling, the culture, the message."
Jovanni Soto, a junior majoring in dance who also took part in the morning class, added, "You build the movement from your inner self."
The evening concluded with Brown's signature work, "Grace," which the Alvin Ailey American Dance Theater premiered in 1999.
Its music begins and concludes with Duke Ellington's soaring gospel composition, "Come Sunday," sung first by Jimmy McPhail, then by Jennifer Holiday. In between are "Gabriel and Rock Shock," a pulsing soul-house track by Roy Davis, Jr., and the Nigerian Afrobeat hit "Shakara" by Fela Anikulapo Kuti. Performed by all eight dancers, including Brown, the dance seamlessly shifts from Ellington to hip-hop and back, finding exalting jubilation in each vein of music.
At first wearing red and white costumes and then dressed in white, with the men bare to the waist, the dancers moved from solos into duets, lines and circles. As their repetitive, rhythmic movement and whirling improvisations reached a peak, they evoked the ecstatic release of Shaker dancers or whirling dervishes. In the course of the work, Brown and his company moved from inwardly focused solos into pairs and groups and then, facing the audience as they danced in unison, drew all into their circle of grace.
After the performance, Brown and his company returned to the stage for a conversation.
Brown told the audience that, as a young dancer in New York, he "never saw real people on stage," and wanted to engage "real bodies in making stories."
His goal from the start has been to create "dances with purpose," such as the traditional dances that mark life passages in African tribal cultures. But he is not stuck in the past. Brown's choreography melds the rhythms of hip-hop and house music as well as the forms and techniques of contemporary and classical dance. "We do arabesques too," said Brown. "We're all part of a tapestry. We are evidence of the world we are living in."