Arts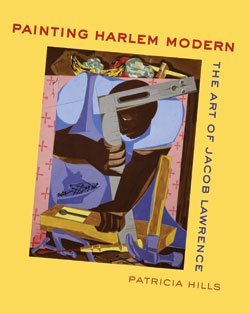 In its caption, Lawrence writes, "Black men, women, and children took up arms to preserve their freedom." Four figures brandishing weapons move forward as if in a choreographed dance. The three men and a woman resplendent in a red and yellow head wrap, white top and red skirt advance in a field of gold. Behind them, a blue backdrop evokes the mountains of Haiti.
Reflecting on a lifetime of works that honor black achievements with a compassion and beauty that transcend politics and race, Lawrence has said, "I'm dealing with struggle…I think struggle is a beautiful thing. I think it is what made our country what it is, starting with the revolution."
On October 29th at 6:00 PM, exhibition curator Patricia Hills will give a free lecture at the Arthur M. Sackler Museum, 485 Broadway, Cambridge, based on her new book, "Painting Harlem Modern: The Art of Jacob Lawrence," the first comprehensive study of Lawrence in the context of the Harlem Renaissance.
The W. E. B. Du Bois Institute for African and African American Research is located at 104 Mt Auburn St. Floor 3 Rear in Harvard Square, Cambridge. Admission is free to the exhibition, which is open weekdays from 9:00 AM to 5:00 PM. Find out more at http://dubois.fas.harvard.edu/rudenstine-gallery
View the original series at:
http://www.jacobandgwenlawrence.org/artandlife04.html.Under series, select "The Life of Toussaint L'Overture, 1938."