Wilkerson blessed with Morning Star support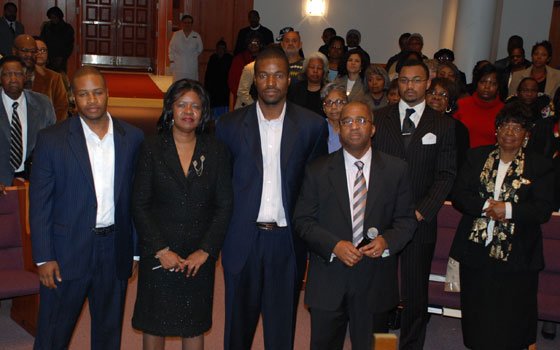 About 150 well-wishers came to Morning Star Baptist Church last Sunday to support former State Senator Dianne Wilkerson. Despite legal troubles, Wilkerson maintains significant respect throughout her former political districts. (Tony Irving photo)
More than 150 well-wishers stood in line at Morning Star Baptist Church to greet and hug Dianne Wilkerson, the former state senator now embroiled in a public corruption scandal.
Rev. Dr. John M. Borders III, pastor of Morning Star, told the gathering of mostly members of the church that Sunday afternoon's showing of support for Wilkerson should be as public as the "storm" that surrounded her sensationalized arrest last year.   
"When a person is 'tried' in the media, they are treated like they have leprosy," Rev. Borders said. "This program is to say Diane does not have leprosy."
After an opening hymn, invocation and scripture reading, attorney Joe Feaster explained why he was there to support Wilkerson. He talked about the importance of friendship, and not abandoning a person during their time of need.  
"When someone is going through a storm, folks tend to drift away," he said.  He closed his remarks with a request that the congregation be generous in their financial aid to Wilkerson.  "Sister Dianne needs our prayers and financial support," he said. "As Christians, we must be there when one is going through."
It has been tough going for Wilkerson since her arrest last October. In addition to support from the church, Wilkerson's attorney Max Stern recently filed a motion and 10-page accompanying memorandum in the U.S. District Court of Massachusetts that were extremely critical of what he described as the "outrageous" behavior of federal prosecutors and "inflammatory" media coverage.
Stern also criticized the FBI affidavit that the U.S. attorney's office immediately released after Wilkerson's "dramatic and unnecessary'' arrest, which came a week before voters in the Second Suffolk District headed to the polls to determine the campaign between Wilkerson, a widely respected civil rights attorney and outspoken community leader, and political neophyte Sonia Chang-Diaz. Wilkerson lost the election.
The motions called for either a dismissal of the case or a change of venue. Citing the ongoing investigation, the U.S. Attorney's Office has declined to publicly comment on Wilkerson's new motions.
Also in attendance at Morning Star Church was city Councilor Chuck Turner. Fresh off a recent victory over Carlos Henriquez in the last city election. Like Wilkerson, Turner is also defending himself against public corruption charges.  
During Sunday's service, Joyce Ferriabough, a veteran media and political strategist and close friend of Wilkerson, also spoke on her behalf.  "I feel loyalty to someone who has done so much for the community," she said. "That's the least we can do."  
Ferriabough described how she and Wilkerson met when Wilkerson spoke at dozens of churches in Roxbury and Dorchester to explain how not to get caught up in the mortgage scams of the mid 1980s.
Ferriabough also compared Wilkerson to a precious stone.  "Diane Wilkerson is a jewel in this community," she said. "We need to uphold the jewels of our community."
Wilkerson politely declined to speak to the Banner during the service, as did members of the gathered congregation, letting their presence at the event demonstrate their support of Wilkerson.
The trial is scheduled to start in early spring 2010.