Whiskey Tasting and Iron Bartender Competition, "Monday Night Football Madness"
11/25/2009, 6:24 a.m.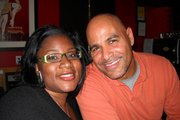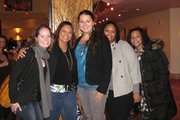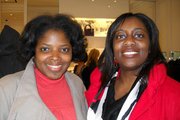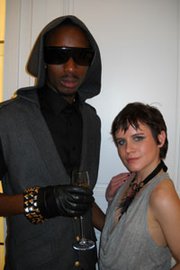 Whiskey Tasting and Iron Bartender Competition, "Monday Night Football Madness"
My week started off with a Whiskey Tasting and Iron Bartender Competition at M Bar and Lounge at the Mandarin Oriental in the heart of the Back Bay, courtesy of Whiskey. Hosted by Ace Gershfield from 6one7 Productions, it was all about the "The Art of the Cocktail" as bartenders from the area came up with a new whiskey drink. They competed for a first prize trip to Florida and a $500 spending spree.
 My favorite combination was "the Europa" and after tasting it, all I can remember is that it was a little sweet, with a hint of pineapple and topped off with fresh shavings of vanilla bean, and oh, so good!!! "Europa" was the big winner of the night and was created by two French bartenders (unfortunately, their names escape me…) from the Woodward, Morgans Hotel Group's new restaurant-bar concept for the Ames Hotel. M Bar and Lounge is a great new spot in the heart of Copley Square on Boylston Street. You can meet up with friends after work and sit at a glass bar top or if you want a little privacy, you can chill in the intimate banquettes that offer a stunning view and dramatic floor-to-ceiling windows. M Bar and Lounge features a custom-designed wine wall, with some 300 vintages, and offers an extensive menu of classic and exotic cocktails. Guests can select from a variety of delicious light fare, ranging from artisan cheeses to a range of tempting Asian-style tapas.
After mingling in Back Bay, I headed out for more fun, food and networking at Rudi's Restaurant and Lounge (located inside the Hampton Inn) for 'Coach' Willie Maye's "Monday Night Football Madness Party." Not being a true football fan, I was more interested in chatting with friends (both old and new) but the folks who were there to see the game didn't seem to mind. For football fans, Rudi's is a really chill spot that's comfortable and casual and serves good food — like the 35-cent Chicken Wings. Best of all, there's no cover charge.
 Catch the game on two 50" Flat Screen HD TVs and enter the raffle to win great prizes. It all benefits the Mission Hill/Fenway Buccaneers Pop Warner Football and Cheerleading program and you might just walk away with some great official-licensed gear from Reebok. On November 30th I expect a packed house for the game between the New England Patriots and the undefeated New Orleans Saints (sorry Pats fans but I can't wait to watch cutie pie, Reggie Bush)….
The Twilight Saga: New Moon
My girl Pebbles, host of WJMN's morning show "Ramiro and Pebbles" is a HUGE Twilight fan. I mean HUGE, to the point of obsession. I like the whole mythology of vampires, but I am nowhere close to being as fanatic as she is…..but, thanks to her, I had the chance to go to JAM'N's advance screening of New Moon.