CORI reform boosted by state senate vote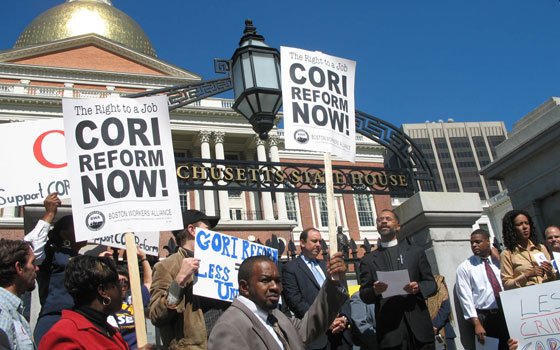 Patrick's executive order and bill draw in part from a May 2007 report cosponsored by The Boston Foundation and the Crime and Justice Institute. Entitled "CORI: Opening Doors of Opportunity: A Workforce and Public Safety Imperative," the report recommended changes in the way CORI information is used to remove unnecessary barriers to employment for ex-offenders.
"CORI was never intended to turn every offense into a life sentence," said Patrick in a statement announcing his proposed reforms last year. "All but a handful of people incarcerated are eventually released, and they need to get back to work. These reforms require decision-makers to make an individual determination about whether an applicant is rehabilitated, rather than excluding ex-offenders categorically. If we want to reduce crime and help people re-integrate successfully, this is a smarter approach."
Many of those working for CORI reform hailed Patrick's support, but stressed that more changes were necessary to make it possible for ex-offenders to find gainful employment.
Paul S. Grogan, president and CEO of The Boston Foundation, echoed the report's findings following the governor's announcement, highlighting the importance of removing those barriers in financially troubled times.
"In this economy, we need all hands on deck," said Grogan in a statement issued at the time.  "The administration has found a way to create economic opportunity while protecting vulnerable populations. That is an achievement with two compelling parts."
As in Gov. Patrick's proposal, the Senate bill also prohibits individuals convicted of murder, manslaughter or felony sex offenses from sealing their records. The 30-page package expands a nine-month minimum parole requirement to all returning state prisoners, while allowing non-violent drug offenders to gain parole eligibility after two-thirds served of a mandatory minimum sentence.
But by most accounts, the new senate bill takes a significant step forward. State Sen. Cynthia Stone Creem, who championed the provision to let prison inmates apply for parole after completing part of their sentence, said in a published interview that the entire bill would help offenders adjust to life on the streets, land jobs and stay out of trouble.
And in these tough economic times, the new bill makes good business sense. Creem told the Boston Globe that making nonviolent drug offenders eligible for early release would save the Commonwealth as much as $15 million a year.
The ACLU of Massachusetts has also fought for CORI reform and was quick to blame "tough on crime" laws and policies that have produced skyrocketing incarceration rates and longer sentences.
"Meanwhile," the ACLU wrote to encourage reform supporters, "the CORI system keeps people locked up in the prison of old criminal records they cannot clear, long after they've served their time and paid their dues. If we believe in second chances, we need to abolish mandatory minimum and other sentencing laws that are too harsh, revitalize parole, and help people get back on their feet when they're back in the community."
Boston Police Commissioner Ed Davis also said he was pleased and explained that "CORI reform will have the effect of being 'Smart on Crime' rather than 'Soft on Crime'."