Arts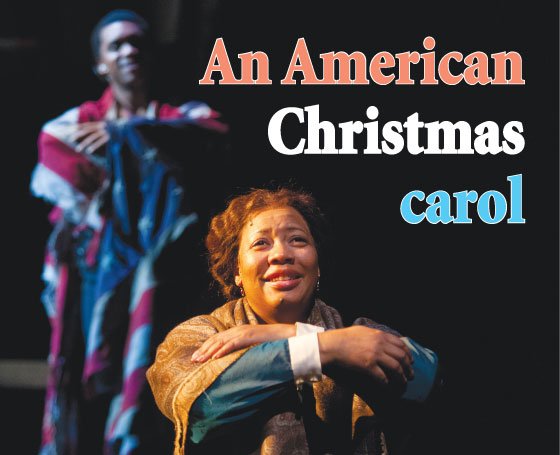 The sole stage décor consists of a chandelier, a frayed Union flag, three bare trees, and a wooden scaffold. In some scenes, it resembles the platform of a slave auction. In others, characters who are dead or absent stand on the platform as their loved ones remember them. 
Apparitions also emerge in the theatre's wreath-draped balconies, where candles flicker to evoke the constellations that guide fugitive slaves north. As the Lincolns remember their son Willie, who died as a child, a small boy appears on a balcony in a Union jacket and silently moves his arms and hands as if tapping a drum. The familiar holiday figure of a toy soldier evokes the countless sons lost to war. The balcony also eerily resembles the presidential box of Ford's Theatre, the scene of Lincoln's assassination four months later. 
Miranda Hoffman's costumes have an eloquence of their own, from the beige homespun dresses of Hannah and Jessa to the sumptuous hoop skirts worn by Mrs. Keckley and Mrs. Lincoln that affirm the equality of the two women. 
Vogel is renowned for plays that explore the darker side of families and relationships.  With "Civil War Christmas," she told an interviewer, "I wanted to write a play that the children in my family could come and see."
Light comic touches abound, but a few scenes strain for humor. The interaction between a stable boy, Raz, (Molly Schreiber) and his horse, Silver (Ken Cheeseman) lasts too long. An uneasy tinge of humor seeps into scenes of John Wilkes Booth (Ed Hoopman) and his co-conspirators as they bungle their kidnapping plot.
The richness of "Civil War Christmas" is the economy and lyricism with which it weaves visual, musical and dramatic threads to convey the heroism of ordinary people and the humanity of heroic figures in a time of tragedy.
The majestic Gilbert Glenn Brown plays Decatur Bronson, a sergeant of a black regiment sworn to avenge the abduction of his free-born wife, Rose, by Confederate soldiers and the slaughter of surrendered black Union soldiers (the Fort Pillow Massacre, April 12, 1864, Henning, Tennessee).
He tells a new recruit, a young Quaker from Rhode Island (Chris Bannow) how Rose taught him to read and write, and, imagining her, he begins a slow, deep rendition of "Yellow Rose of Texas." A female chorus joins in. Wearing hoop skirts and bearing bouquets of roses, they cross the stage in a procession followed by Rose (Uzo Aduba). She and Decatur briefly unite in a dance. 
In another memorable scene, a veiled Mrs. Lincoln visits an army hospital and sings "Silent Night" to a dying soldier. The character, Moses Levy (DeLance Minefee), is based on Benjamin B. Levy, a Jewish volunteer who received the Medal of Honor. Moses tells her that although he is Jewish, he likes the song and asks her to keep singing. As Mrs. Lincoln softly resumes the carol, six soldiers rise from their cots, blankets folded over their shoulders like prayer shawls, and chant the Kaddish, the Jewish prayer of mourning.
Shortly before last year's world premier of "Civil War Christmas" at Long Wharf Theatre in New Haven, Vogel wrote, "Where are the American 'Christmas Carols'?"  Look no further than the Boston University Theatre for a magnificently American holiday pageant.