Transracial adoptions earning more respect
Associated Press | 11/18/2009, 4:34 a.m.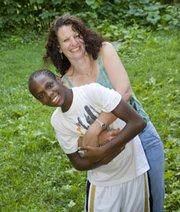 When Lynn and Kevin Riley brought home their son Jack from the hospital, Mrs. Riley distributed a letter to family, neighbors and friends to "invite open conversation."
With respect to Jack, she wrote, "No question is a wrong question. If I can't answer, I'll be honest and know you will understand. Please ask the question, rather than have this be a taboo question."
This was, perhaps, not the typical birth announcement. But this was also not the typical story of bringing home a baby.
The Rileys, who had already had two biological children, Madison and Emily, adopted Jack in 2003 through the Massachusetts state agency now known as the Department of Children and Families (DCF). The Rileys, who are white, were bringing Jack, who is African American, to their home in Millis, a community that Mrs. Riley describes as "not very diverse."
The open letter, Mrs. Riley explained, "was more out of wanting to protect our own family." So far, Riley says, she has yet to encounter anyone who has not been supportive of their decision.
 That wasn't always the case with transracial adoptions. Fifteen years ago, the issue reached a head. At the heart of the debate was the fact that the foster care system had a disproportionately high number of black children. On average black children languished in foster care nine months longer than white children before moving to permanent homes.
After intense debate, the Multiethnic Placement Act (MEPA) passed both the Houses and the Senate, and later signed into law by President Bill Clinton. The law prohibits an adoption agency that receives federal funding from discriminating on the basis of race, color or nationality in placing a child in an adoptive or foster family.
One part of the law directed state agencies to recruit more adoptive parents of the same race as the children. The more contentious part of the legislation prohibited race from being taken into consideration in most decisions about adoption from foster care. For example, white parents seeking to adopt a black child cannot be required to undergo race-oriented training that differs in any way from training that all prospective adoptive parents receive.
But critics argued that a color-blind family was not necessarily a good thing in transracial adoptions, largely because that approach had the potential to diminish a healthy sense of racial identity. That debate rages on, as does the number of transracial adoptions over the years.
The U.S. Census Bureau has only collected information about adoption since 2000. There were 1.5 million adoptions that year. Of those, 270,000 indicated the adopted child was of a different race than the "householder."
The latest federal figures showed 32 percent of the 510,000 children in foster care were black in 2006. Of the black children adopted out of foster care, about 20 percent are adopted by white families.
The census also indicated that non-white families rarely adopted children of a different race, whereas 13 percent of white adoptive families had adopted a child of a different race.