Senate rivals face off in civil debate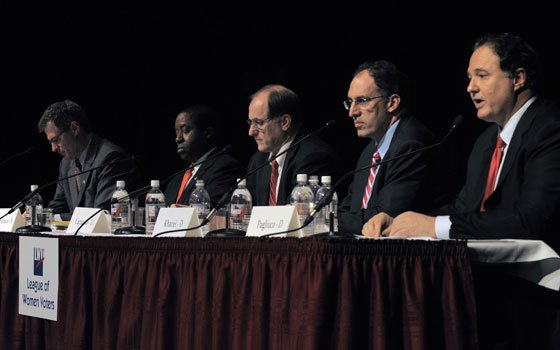 Coakley said she would support an 8 to 10 percent cap on interest rates.
"It's gotta happen in Washington and it's gotta happen soon," she said.
Coakley pledged to keep her doors open to GBIO once in the Senate.
"You we be able to meet with me any time," she said. "You know that because you have met with me as attorney general."
Coakley then enumerated a list of her achievements in government, especially on predatory lenders, home foreclosures, student loans and workforce development. She also emphasized government fairness, saying that one reason for her Senatorial bid is to "get back to fairness for everyday working Americans."
On the question of bringing in $100 million for jobs, Alan Khazei, a social entrepreneur, said he already has brought that amount to Massachusetts through his work running City Year, the national jobs corps he founded in 1988.
"I know how to get that done," he said, noting that he is "running on a platform of big citizenship" and that he is "the only movement leader in the race."
Khazei further said that health care "needs to be a right, not a privilege," even for immigrants. He also advocated moving student loans away from companies and back to the government, but would not commit to the 10 percent interest cap.
When pressed on his refusal to commit to working for such a cap, Khazei noted that the Senate had failed to secure a 36 percent cap on interest in a previous vote.
"I'm not going to tell you what you want to hear," he said. "I'm going to tell you what I think I can get done."
Stephen Pagliuca, co-owner of the Boston Celtics, presented himself as "the jobs Senator" and sounded a similar note as Khazei on an interest rate cap. "If we can't get 36 percent, I'm afraid we won't be able to get 10 percent," he said. "We have to get this done without shutting off credit for everyone."
Sounding his campaign theme, Pagliuca spoke about the importance of securing funds for job training, noting that there are currently 320,000 people unemployed in Massachusetts.
"We've got to get people trained for jobs in the future," he said.
In closing remarks, Pagliuca spoke again about the importance of jobs.
"I guarantee I will bring jobs back to Massachusetts," he said.
Throughout the two-hour forum, local residents and GBIO members also told personal stories and offered moral exhortations to express the importance of these issues, drawing thunderous applause from the audience. Several stories also evoked gasps of shock and disgust at the daily injustices fellow Bostonians suffer.
Ray Geldart explained her $1,200 monthly payments on private student loans—payments that precluded her from pursuing her dream of joining the Peace Corps—and the 13 percent interest rate that brought her $30,000 loan to a quarter of a million dollars.
And Monette Roberson told of a woman in her congregation whose credit card interest rate increased to 39 percent after the death of her mother, forcing her to pay $900 each month in credit card bills.
Frequently cheering and clapping, the audience was clearly excited that the candidates responded so positively to their questions. Reverend Ray Hammond, pastor of Bethel AME Church, closed event.
"We're powerful because we're diverse," he said. "… We're diverse, but united in our determination to pursue real and tangible change. We celebrate as descendents of native peoples, freed slaves and immigrants and refugees—our determination will form that more perfect union."