Senate rivals face off in civil debate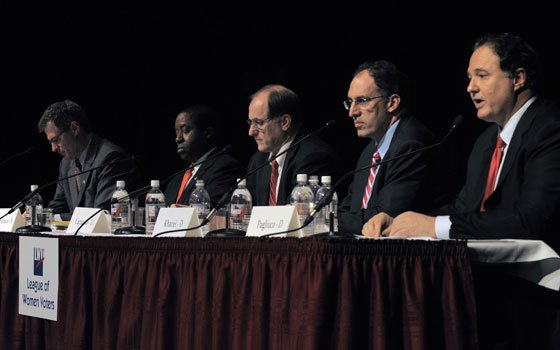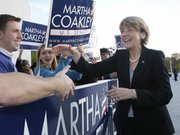 If the crowd of more than 800 people who filled the Bethel AME church Sunday were looking for a dust-up between the four candidates running for an open U.S. Senate seat, they went home disappointed.
The Greater Boston Interfaith Organization (GBIO) activists who put together the candidates forum discouraged verbal sparring by keeping the candidates focused on a narrow agenda, asking them to answer yes or no to supporting their four legislative priorities.
"Usually when you come to events like this, the candidates come to the stage to share their platform of issues they have prioritized," said Reverend Hurmon Hamilton, pastor of Roxbury Presbetyrian Church president of the GBIO. "But not tonight. Tonight they have come to hear our platform, presented by our real people, who will tell real stories to illustrate the issues that are our priorities."
GBIO was instrumental in passing health care reform legislation in Massachusetts and brought together over 40 religious organizations and nearly 800 of their congregation members to challenge the Democratic candidates on issues of health care, jobs, access to higher education, and usury.
Those issues included: protecting Massachusetts health care standards under national health reform; ensuring that documented immigrants have health coverage; bringing $100 million to Massachusetts for job training; capping interest rates on private student loans at the same rate as federal student loans; making it possible to discharge student loans through bankruptcy; and capping interest rates at 10 percent.
Perhaps because the candidates are running to fill a seat held by Edward Kennedy, a stalwart liberal during his nearly five decades in the Senate, the candidates have advanced nearly uniform positions on major issues.
While there were few disagreements Sunday, the differences between candidates were revealed in their style.
Going in alphabetical order, U.S. Rep. Michael Capuano kicked off the forum, stressing his track record of championing many issues GBIO is now pushing during his 11 years in the House.
"Every issue hit tonight is a homerun," Capuano said and explained that his voting record and work in Congress demonstrate his commitment to the issues. He also went beyond many of GBIO's policy recommendations, saying, "In today's world, 10 percent (interest rate) is too much."
Capuano said he would go lower. "It should be [capped] at or above the prime interest rate," he said.
Capuano also exceeded GBIO's recommendation to remove the protection against bankruptcy for student loans, calling for all personal debt to be covered under bankruptcy law.
Capuano again stressed his track record. "The things we talked about tonight are not just words," he said. "They are the reason I ran for city council, mayor and congress. I've stood with you on every issue we have mentioned tonight. Not just stood with you — led on some and followed on others."
Following Capuano, Massachusetts Attorney General Martha Coakley spoke about the need for the legislature and president to level the playing field between moneyed interests and middle- and low-income people.
"The American dream has been turned upside down," she said. "The wealthiest people in the United States have gotten bailed out with no strings attached."