It's about time
11/18/2009, 2:44 a.m.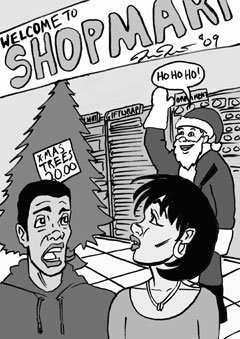 It's about time
The Federal Hate Crimes Prevention Act was signed into law last month with little fanfare. For the first time, the law established federal jurisdiction for prosecution of gay-bashing.
According to FBI Hate Crime Statistics for 2007, there were 9,535 victims of hate crimes in that year. Of these, 1,516 were victims of crimes because of their sexual orientation. Prior to the enactment of the new law, which was named in memory of Matthew Shepard and James Byrd, Jr., there was no federal recourse for such criminal conduct. Shepard was murdered because he was gay, and Byrd was lynched because he was black.
The original Hate Crimes Act of 1969 applied only to violations because of race, national origin or religion, and the offense had to interfere with a federal right such as voting or using federal facilities such as parks. The next step was for Congress to enact a law to require the U.S. Attorney General to compile annual data on hate crimes. The Hate Crimes Statistics Act of 1990 included the requirement for data on race, religion, disability, sexual orientation or ethnicity.
It was not until passage of the Hate Crimes Sentencing Enhancement Act in 1994 that a federal penalty was imposed on violations based on sexual orientation. Nonetheless, the limited scope of federal jurisdiction rendered hate crime law enforcement almost powerless. However, the new law that was signed on Oct. 28 grants broader powers to federal law enforcement for all hate crimes. Now the FBI can intervene if the state authorities refuse to take action on any violation of state law, and local police can require the involvement of the vast crime solving resources of the FBI in any case the police identify as a hate crime.
While the new law is recognized as a special boon for those who are abused because of their sexual orientation, it is also very beneficial to African Americans. The new enforcement provisions apply to every category of victim under the law. According to the 2007 FBI Hate Crime Statistics there were 3,436 individuals who were victimized because they are black. This is 228 percent greater than the number of gay or lesbian victims.
The U.S. Senate consistently refused to approve an anti-lynching law, despite the fact that there was rarely any state prosecution for the lynching of blacks. It is estimated that more than 2,400 blacks were lynched between 1865 and 1965, although estimates vary. The Senate apologized for their grievous intransigeance on Jun. 14, 2005. Now, it is hoped that the Senate shall never again allow the Doctrine of States' Rights to serve as a barrier to the realization of the precious individual rights of every American.
A long way to go
African Americans and many other minorities are elated with the election of Barack Obama as President. In the ecstasy of this time it would be a major mistake to assume that the battle for equality is over. A recent report by the Political Participation Group of the NAACP Legal Defense Fund is persuasive that "post-racial" America has not yet arrived.
The exit polls from the 2008 election indicate that 95 percent of African Americans, 67 percent of Latinos and 62 percent of Asians voted for Obama. Only 43 percent of whites voted for him. However, the aggregate white vote was depressed by the results from the old confederacy. For example, only 10 percent of white voters in Alabama, 11 percent in Mississippi and 14 percent in Louisiana voted for Obama.
As hard as one might try, it is difficult to find any other explanation for this disparity other than race. On the other hand, it is very encouraging to find that so many whites in more northern states are ready to decide who shall be president only on the basis of competence and policies.
While it is fine to celebrate the political success, it is also wise to remember that progress is indeed fragile.