First-grade teacher trades in books for healthy fruit biz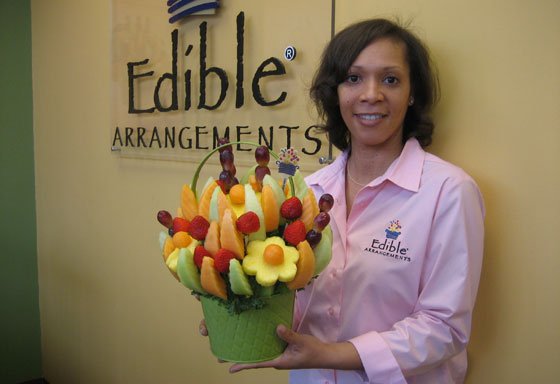 Farrar also makes significant efforts to give back to the community. She hires employees from the Boston Pre-Release Center, a correctional facility that transitions former inmates back into the community.
And this November, she is partnering with Nexus Alliance, a Massachusetts-wide network of black male professionals, for a Thanksgiving turkey handout. Nexus Alliance plans to donate 1,000 free turkeys to families in Dorchester and Farrar will distribute free fruit bouquets.
Farrar also donates extra fruit to Roxbury's Haley House. Didi Emmons, who runs Haley House, said that she uses the fruit for her program "Take Back the Kitchen," and has the children design their own fruit arrangements.
As the storeowner, Farrar has received certification from the State Office of Minority and Women Business Assistance (SOMWBA), and is the only Edible Arrangements storeowner with such recognition.
Unfortunately, the economic crisis has hurt the business. "It's been extremely difficult," she said before rattling off the cutbacks on staff, supplies and operating costs that she was forced to make over the past year.
 To compensate, Farrar said that she has done extra grassroots marketing by passing out flyers and samples throughout Boston to let people know about her South Boston store. In these tough times, she said, potential customers view her fruit bouquets as a "luxury item" and do not want to spend money on non-necessities.
However, Farrar sees her product differently. "It's a healthy alternative to gift-giving, really … Instead of flowers for your girlfriend's birthday, [this is] a nice delicious celebration. It doesn't have to be a luxury item. It can be an everyday item for people. And that's what I want them to know, what I want them to think about when they're thinking about a gift."
Despite the recession, Farrar remains optimistic about business. "I'm so passionate about it that I know it will catch on," she said.
For more information, or to buy an edible arrangement, visit the store at 613 E. Broadway in South Boston, or on the web at www.ediblearrange ments.com.