Arts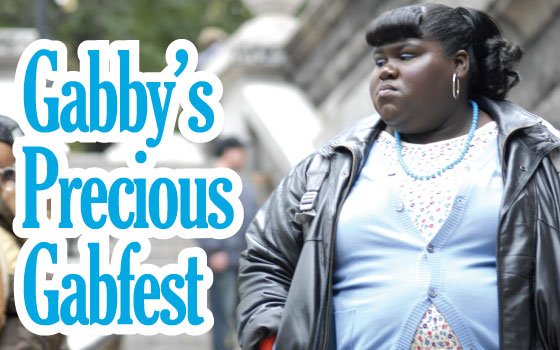 The bookworm Troy Johnson question: What was the last book you read?
"Addicted" by Zane.
The music maven Heather Covington question: What music are you listening to nowadays? 
At the moment, I'm listening to a lot of RandB. I really like Trey Songz. I also like Lady GaGa a lot. She certainly helps on car rides when I'm on my way to an interview or a photo shoot. I listen to a lot of what's on the radio. I'm afraid I don't stray away from the popular. 
The Flex Alexander question: How do you get through the tough times?
By counting my blessings.
When did it hit you that Precious was really taking off?
I try to not let it become real to me. Because whatever state I'm in right now, is the best feeling ever. It doesn't feel real to me. What does feel real is when people who've seen the film, like at the premiere the other day, come up to me and thank me. I don't feel like I've done a service, but I appreciate that they think I've given them something. And then I'll see Will Smith walk by and it becomes unreal again.   
How do you think this sudden success will influence your future?
I don't know. I hope positively. I hope I can continue to act. I hope that I've shown Hollywood that even though I'm not blonde or a size 2, I'm still worthy of carrying a film. 
Children's book author Irene Smalls was curious about what kind of internal emotional resources came into play when you created the character of Precious?
Compassion. I had a lot of compassion for the character. 
Bernadette asks if you think your studying psychology impacted your performance.
I hope so. I hope I got something out of those four years I spent in college. I had read some books about the anatomy of a victim, and I certainly tried to carry that knowledge into Precious.
What is your long-term career goal?
[Laughs] My goal is just to have a career. I hope to be able to do a lot of different types of films. To do a comedy, to play a romantic lead, and to do a lot of other different things.
Marcia also asks whether you were emotionally affected by the role.
No, what I felt most was a responsibility to tell this girl's story the best way I could.
How do you feel about all the Oscar buzz Precious has been getting?
It's scary, and a tad premature. I've never been here before, so I don't really know what it's like to be in an Oscar-worthy film. It's unnerving, but I'm also so grateful that anyone would consider associating our film with an Oscar or any other award.