Arts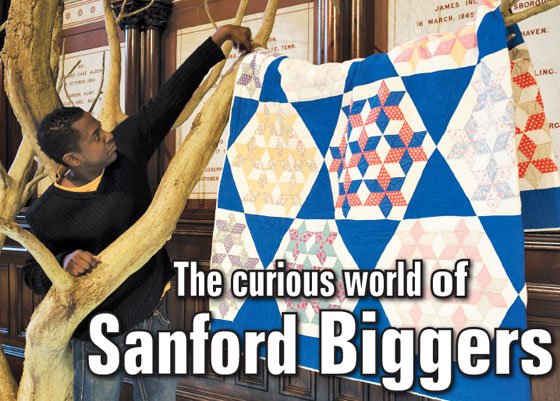 Collaborating with follow artists who share his appetite for cross-pollination, Biggers continuously expands the reach and richness of these convergences. Mandalas, Buddhist sand paintings, and giant Afro picks find their way into his works as do Sufi chants, break-dancing competitions, ritual jazz improvisations, and hip-hop samples.
The Harvard installation and a related live performance extend his exploration of the African Diaspora to the cosmos.
Evoking the Japanese tradition of Sakura — communal festivals of song and dance under cherry trees in full bloom — Biggers will stage a 30-minute performance on Nov. 18 with the installation as its centerpiece. Joining him will be jazz vocalists Imani Uzuri and Sumie Kaneko as well as Harvard's black a capella ensemble KeyChange, a group dedicated to music of the African Diaspora, including RandB, hip-hop, neo-soul, and Motown.
Kaneko is a 2006 graduate of the Berklee College of Music and an award-winning performer of traditional Japanese instruments. She will play the koto, a zither-like wooden string instrument, as Uzuri sings passages from the free-jazz big band pioneer Sun Ra and verses from the Sufi poet Rumi.
Summoning a tradition of African-American spirituals, Uzuri and the KeyChange singers will also engage in a call-and-response improvisation as they perform their remix of "Strange Fruit," entitled "Stranger Fruit."
"Imani Uzuri is an ordained minister," says Biggers. "She has the role of an oracle. As she sings by the tree on the platform, she'll stand among the stars."
"Constellation (Stranger Fruit)" is on view until Dec. 2 in the Memorial Transept of Memorial Hall, 45 Quincy St., Cambridge, one block from the T stop at Harvard Square.
Memorial Hall is open weekdays from 10 a.m. - 6 p.m., Saturdays from noon - 6 p.m., and Sundays from noon - 3 p.m.
Admission is free to Memorial Hall and to these related events:
• A Conversation with Sanford Biggers on Nov.16 at 6 p.m. at the Harvard Art Museum, 485 Broadway, Cambridge.
• A 30-minute performance on Nov. 18 at 4 p.m. in the Memorial Transept.