Dot girl vies for National Miss Pre-Teen Queen title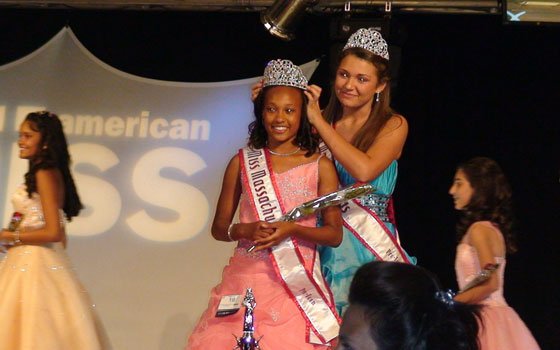 Kristen needs as much space for her swimming trophies as she does her pageant crowns. The Marr-lins voted her Most Valuable Swimmer in the summer of 2008, and earlier this fall the tiny seventh-grader defeated high school seniors in two swim races.
Kristen has also remained active with The Wheelock Family Theater in Boston for the past four years. McIntyre said part of why she was not surprised with her daughter's initial pageant success was because of her prior stage experience with Wheelock.
And then, of course, there is school. Kristen was a perennial fixture on the Dean's List while at Roxbury Preparatory Charter School, and is excelling in her first year at Boston Latin School. In the summer of 2008, Kristen was one of 16 6th-grade students selected from a pool of 500 to participate in the ExxonMobil Bernard Harris Summer Science Camp at Northeastern University.
Kristen would ultimately like to attend Harvard and major in Sociology. "I just really like to help people, and the satisfaction of knowing you helped make a difference in someone's life," Kristen said.
Kristen's community service work includes assisting at homeless shelters, participating in walks for multiple causes and volunteering with the Make-A-Wish Foundation. Earlier this year, she helped raise money for Dream Day on Cape Cod, which works with children facing life-threatening illnesses.
So what's the secret to her juggling act?
"Time management," she said.