Cambridge forum digs into race, class issues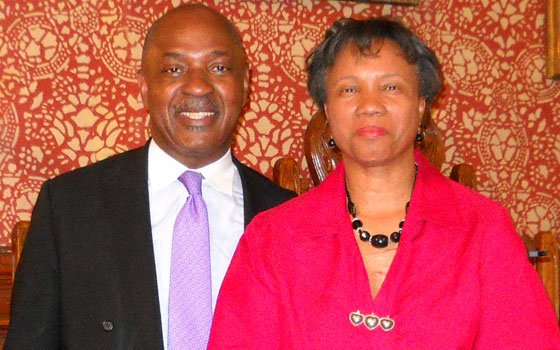 CAMBRIDGE — Mayor E. Denise Simmons continued a decades-long city tradition last Thursday, hosting a community discussion of race- and class-related matters in the Sullivan Chamber of Cambridge City Hall.
This year's event, titled "The Trouble I've Seen," gave residents an opportunity to talk openly about Cambridge's approach to race and class relations, highlighting areas in which the city performs well and others where there may be room to improve.
"Race is not rocket science — it's harder than that," said Charles J. Ogletree Jr., the Jesse Climenko Professor of Law at Harvard Law School and executive director of the school's Charles Hamilton Houston Institute for Race and Justice, who served as the event's keynote speaker.
Simmons said in her opening remarks that the City of Cambridge began holding similar talks back in the 1940s. By 1945, city officials formed the Cambridge Civic Unity Committee, which was designed to work on issues of intergroup harmony. Simmons served as executive director of the unity committee from 1982 to 2002, the year she was elected to the Cambridge City Council.
Previous city-sponsored discussions have focused on a variety of issues — among them, concerns facing Cambridge's gay, lesbian, bisexual and transgender population and its senior citizens, calls for increased affordable housing options, impediments to equal employment for minorities, diversity in the ranks of Cambridge public school teachers and the need for more "user-friendly" services for immigrants and those who speak English as a second language.
Addressing community residents, Cambridge elected officials and members of the city's chapter of the National Association for the Advancement of Colored People, among others, Ogletree spoke about what he described as racial amnesia and fatigue.
The willingness of many Americans to forget or ignore times of past racial tension, such as the days of slavery or the Jim Crow segregation era, is the major racial issue in the nation today, according to Ogletree. And, he added, such willful blindness persists, even after the historic election of Barack Obama as the first black U.S. president last fall.
"… We still have every single problem we had before Nov. 4th," he said.
After showing a number of news clips from the 2008 primary and general election — including one that featured a woman referring to Obama as "an Arab" and Republican nominee Sen. John McCain replying that "no, [Obama] is a good, honest man" — Ogletree turned his comments toward education in Cambridge, noting the difference between the dominant images of the city's academic life and the reality of achievement disparities in its public school system.
While Cambridge is home to a number of vaunted institutions of higher learning, state Department of Education statistics for the 2008 Massachusetts Comprehensive Assessment System (MCAS) tests indicate wide gaps in the academic success of black, Hispanic/Latino and white students of all age groups.
On the 2008 third grade reading MCAS exam, 32 percent of black students earned "advanced" or "proficient" scores, compared to 41 percent of Hispanic/Latino students and 79 percent of whites. While the gulf is narrower among 10th-graders who took the MCAS English Language Arts test, it's still large — 50 percent of black students scored in the top two categories, compared to 60 percent of Hispanic/Latino pupils and 81 percent of white students.