Teachers failing their students
5/26/2009, 10:07 a.m.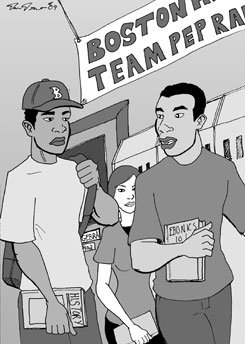 Teachers failing their students
The inability to communicate effectively in English is a crippling professional disability. Some public school students come from neighborhoods where a patois is the language of choice. School is the only place where they can become proficient in standard English.
However, they might not have the help they need in many classrooms. According to statistics from the state Department of Education, 52 percent of Latino applicants and 54 percent of black applicants failed the writing section of the teacher certification exam during the 2005-2006 school year.
Three black or Latino former teachers who lost their jobs after repeatedly failing the exam filed suit against the Department of Education, charging that the test is biased against minorities. The failure rate for minorities is about twice the rate for whites.
If there are flaws in the test, they must be corrected, but there should be no room in Boston's classrooms for teachers who are incapable of helping students acquire a solid facility with the English language.
One term too many
Favorable polling results early in a political campaign do not assure victory on Election Day. At the outset of the last presidential campaign, then-Sen. Hillary Clinton was touted as the presumptive Democratic nominee. At the time, 60 percent of African American voters supported her. After losing to Barack Obama in Iowa, she won in New Hampshire and recovered her mystique.
Pundits expected Clinton to eliminate her opponents on "Super Tuesday," Feb. 5, 2008. That day, 24 states held primaries or caucuses to choose the Democratic nominee. More than half of all pledged delegates were at stake. Obama won 13 states to 10 for Clinton, earning 847 delegates to her 834. Obama never again lost the lead.
The recent Boston Globe poll that shows a high approval rating for Mayor Thomas M. Menino is understandable. There is every reason for voters to approve of the many good things he has done in almost 17 years in office. But for many residents, especially those who favor term limits, a fifth term is just one too many. After too many years, a mayor's vision for the city is bound to become blurry and his ideas are bound to become stale. The only thing likely to grow stronger is the despotic exercise of authority.
Many Roxbury residents are incensed over Menino's rejection of the unanimous decision of the Roxbury Strategic Master Plan Oversight Committee to designate Elma Lewis Partners LLC as the developer of Parcel 3, the eight-acre site opposite the Boston Police Department's headquarters on Tremont Street. His effort to de-designate the Elma Lewis group was so vehemently opposed by the community that Menino had to reinstate them.
The developers had no choice but to accept the 18-month extension offered by Menino, even though that may not solve their problem. There is still a freeze on credit for commercial real estate development. No one knows for certain when investment funds will be available again. A sincere gesture of support by Menino would have been an extension of 18 months after a moratorium until the economic recession abates.
The fact remains: Menino's rejection of the Elma Lewis project is an insult to the community. There is nothing in the mayor's educational background to suggest that he is more competent than the combined intellect and judgment of the members of the Roxbury Strategic Master Plan Oversight Committee. Menino apparently has a plan for the site that does not benefit the residents of Roxbury.
A fifth term for Menino is one too many.