At Science Club for Girls, confidence a key element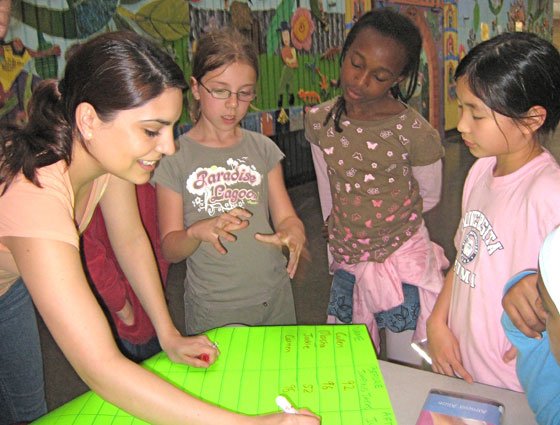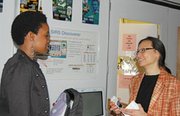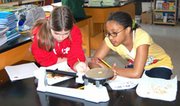 The school day is over at Roxbury's Tobin School, but little girls are busy with science experiments.
On a spring afternoon, a group of kindergarteners and first-graders gather around a table with volunteer Jamie Madrigan, a graduate student in epidemiology and environmental health at Harvard School of Public Health. They're going to learn about viscosity, and see how detergent causes oils to break up and disperse. But Madrigan puts it in less lofty terms.
"We're going to have some fun with milk and glue and colors today," she says. "It's going to look like a firework." The girls squeal in excitement.
The all-girl science group is part of the Science Club for Girls, a Cambridge-based nonprofit whose aim is to increase science knowledge and self-confidence in girls from different racial, ethnic or socioeconomic backgrounds. The organization is celebrating its 15th year, and served over 600 children this year.
In the next room, a dozen second- and third-graders are talking about recycling.
"Raise your hand if you recycle at home," says Karen O'Neill, an engineer pursuing a master's degree in education at Boston University.
Hands shoot up.
"I recycle cans," one girl says. Others chime in: "I recycle paper," "I recycle water bottles!"
O'Neill responds with questions: What are water bottles made of? Where does the stuff go after the truck takes it away? They discuss how paper might be made into new paper, and how rubber tires can become mulch.
Girls ranging from kindergarten through seventh grade do hands-on science activities in after-school or Saturday clubs led by "mentor-scientists" who are professionals or students in science and engineering fields.
Girls in upper grades participate in other ways. They can work as Junior Assistants (JAs), helping to lead younger girls in science club experiments. They can also learn video editing on the Media Team, or build rockets and compete on an all-girl Rocket Team, led by graduate students from the Massachusetts Institute of Technology.
The first Boston club started in fall of 2007, and clubs now operate at the Tobin K-8 School, Gavin Middle School in South Boston and Rogers Middle School in Hyde Park.
The recycling discussion at Tobin is followed by a game. The girls count off and form two teams. The goal is to pick up items from a large bin and walk — not run — to the front of the room, dropping each item into the proper bin for paper, containers or non-recyclable items.
A girl named Delores claps her hands in excitement while waiting her turn; Kathy does a little tap dance. The girls' heads form a shifting tapestry of long black hair, fluffy ponytails, intricate braids, pink clips and white or brightly colored beads.
After a fierce contest, the teams finish the task at exactly the same time.
"It's a tie!" says a group leader, as the girls let out ecstatic cheers. "Congratulations, you all won!"
Such teamwork and positive reinforcement are integral parts of the Science Club.
"This is not just about science education — it's about getting girls to develop confidence in making observations, defending their conclusions, supporting each other," says Dr. Connie Chow, the organization's executive director.