NU hockey standout sets sights on higher goal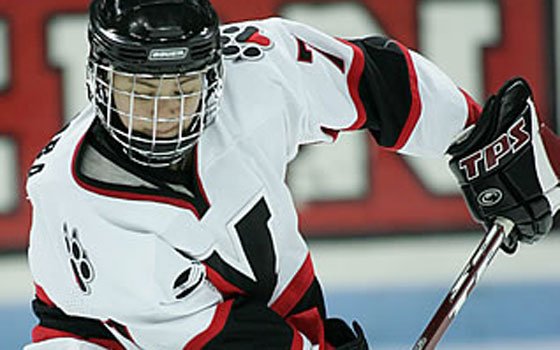 "I felt that I had to prove myself, since I was from a 'hockey town,'" she said.
Her freshman year would be short-lived.
During an early September practice, Elumba caught her left skate in the rink's Zamboni door and tore both the medial retinaculum and the meniscus in her left knee. The retinaculum tear dislocated her kneecap, causing it to slide into her femur, which created fractures in both the femur and patella.
Elumba underwent surgery two days later to clean out bone fragments in her knee and straighten the meniscus. After the surgery was completed, she was cleared to play and made an attempt to come back in January. But getting back on the ice so soon after the injury proved to be a mistake. Elumba tore her knee again, requiring a second surgery that created a new retinaculum out of grafted hamstring tendons to keep her kneecap in place.
She was forced to miss the rest of the season and "redshirt" her sophomore year as well to maintain her eligibility.
"Redshirting was hard because you still have to show up to practices and games, but you can't play," said Elumba.
During that year away from hockey, Elumba found a new purpose.
"Up to that point, hockey had been my life," she explained. "Suddenly I was without it and I felt a bit lost."
Raised Catholic, Elumba has less-than-fond memories of going to mass with her family: "I hated church." While sitting in Northeastern's Stetson East Cafeteria one day during the 2005-2006 season, Elumba was approached by a group of girls who asked an interesting question.
"Kate Craft and her friends sit down and start talking with me, and Kate says to me, 'This might be kind of weird, but do you want to come to church with me?'" Elumba recalled.
Elumba accepted the offer to attend Community of Faith Christian Fellowship, a nondenominational worship group in Brighton. She says she was enthralled by the worship service.
"I thought it was like a concert," Elumba said. "There was a guitar and drum set, and people were singing and praising God. I had never seen that before."
 With a newfound source of faith, Elumba rededicated herself to helping others experience what she calls "Holy Spirit connections" through faith-based encounters. On campus, she spearheaded a number of initiatives to encourage Northeastern students to act and think philanthropically, including starting Northeastern Students for Giving, a student group dedicated to charitable efforts.
Through her role with the university's Student Athletic Advisory Committee (SAAC), of which she has been a member for three years and president for the past two, Elumba has helped lead an initiative to spend surplus SAAC funds on sports-based philanthropic efforts in the Boston area rather than on Northeastern's own teams. This group, the Husky Wish Gift, delivered gifts in person to community groups like the Sportsman's Tennis Club in Dorchester.
"It's rewarding because you see how the work you've done impacts the community," said Elumba.
Last summer, Elumba went to Calcutta, India, where she volunteered with Mother Teresa's Missionaries of Charity. There, she provided medical care as well as spiritual and emotional therapy to poor and disabled residents in the area. The time in India has led Elumba to seriously consider missionary work.