At-large bid has Ezedi back on city pol scene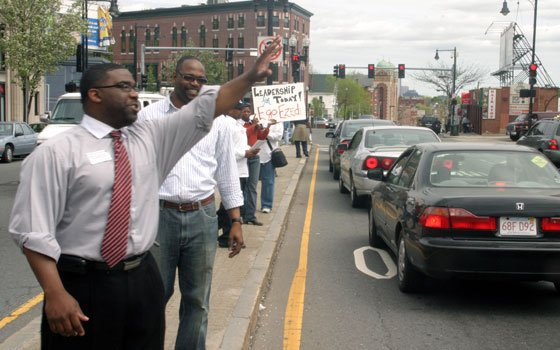 "All in all, what I've made clear is I'm going to do what's right by the community," he says. "When it stops being right for the community, that's when I'm leaving. That's always been my barometer."
When he speaks in Grove Hall, Ezedi makes the community his campaign theme, pledging to "always put the community first." His pastoral skills are in evidence as he repeats key themes in his speech.
By 11 a.m., there are 25 volunteers, and the Ezedi campaign is ready to arm them with clipboards stacked with nomination papers. Ezedi launches into his stump speech, pledging to put the people first, to work on creating jobs, safe streets and reforming the state's Criminal Offender Record Information laws.
"It's about the people — it's not about the politicians," Ezedi says, repeating the statement for emphasis. "I understand the needs of youth and families in this city."
Ezedi's polished delivery, his army of volunteers — he says he has more than 100 — and his political connections could put him at the front of the pack in the at-large race, along with Ayanna Pressley, former aide to Sen. John Kerry, labor organizer Felix G. Arroyo, Andrew Kenneally, former aide to City Councilor-at-Large Michael Flaherty, and former Boston University Director of Community Outreach Tomas Gonzalez.
But before the campaign gets underway, Ezedi reminds his team, they need the signatures.
"Know that every signature we collect gets us closer to where we need to be," he says.