Classic writing guide celebrates 50th anniversary
Associated Press | 3/25/2009, 6:04 a.m.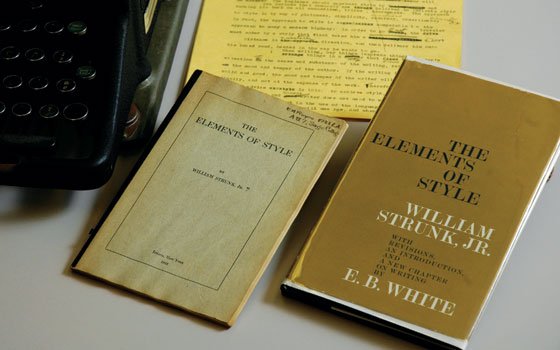 Strunk's "Elements of Style" probably would have vanished for good if someone had not stolen one of the two copies in the Cornell library in 1957 and sent it to White.
In his "Letter from the East" column dated July 15, 1957, White trumpeted "the little book," recalling its "rich deposits of gold" and eloquently ruminating on the valuable lessons he learned, lauding Strunk and his devotion to lucid English prose.
Jack Case, an editor at Macmillan, was enticed by the column and eventually persuaded White to revise, expand and modernize Strunk's book.
Cornell's archival holdings include White's letters back and forth with Case about the project, as well as his original note-filled 1959 manuscript. Cornell also possesses three copies of Strunk's original 1918 edition and White's Underwood typewriter.
"We think that amidst the crazy currents now running every which way in freshman English, your essay could draw up a tide that would get this off the beach," Case implored in one letter.
The 1959 edition was 71 pages and cost $2.50 in hardback; a paperback sold for $1.
"This, together with, on the other side of the Atlantic, H.W. Fowler's 'Dictionary of Modern English Usage,' are the two style books that are generally held up as the authorities," said Baron, a member of the National Council of Teachers of English.
White later revised the book in 1972 and 1979, expanding it to 85 pages, as it also became a standard reference work for journalists, ad agencies and writers beyond the classroom. White died in 1985. A fourth edition appeared in 2000 with a foreword by White's stepson, Roger Angell.
The 50th anniversary edition has 95 pages but also includes several pages of testimonials from famous literary figures past and present, Angell's foreword, an introduction written by White to the 1979 edition and an afterword by Charles Osgood, anchor of "CBS News Sunday Morning" since 1994.
After 30 years of teaching English, Sharon Gross said she has found the book's influence waning some in the classroom, but said that "for the purist, it continues to be an invaluable source for those who demand conciseness and brevity in writing."
Strunk and White, though, is possibly needed even more today because text and instant messaging on computers and cell phones have helped erode writing skills, said Gross, who teaches at Chamberlain High School in Tampa, Fla., and is a member of the advisory council for the National English Honor Society for High Schools.
"The main appeal of the book is the idea of, 'Say what you mean and mean what you say,'" said Gross.
Strunk's focus on usage and composition in a few concise rules helps the novice writer quickly find a comfort zone with his own writing; the clarity and delivery of Strunk's own rules lends credence to the writing philosophy of "show, don't tell,'" Gross said.
"A 'good' writer still values the elements Strunk introduced in 1918," she added.
(Associated Press)