Building a bridge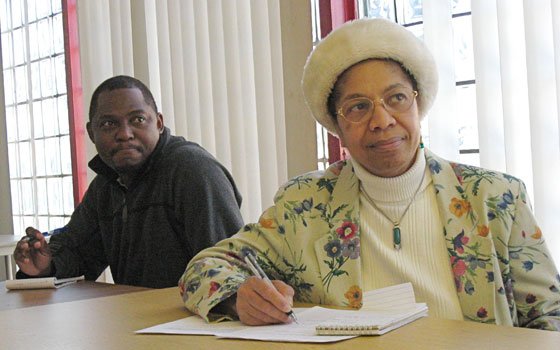 "Sometimes in the street if someone asks directions, I can help them," Leonard said. "And once, some kids who spoke only Spanish were able to help me."
Bernava first discovered the Dudley Literacy Center, a service of the Boston Public Library located just behind the library's Dudley Square branch, when he was seeking materials for learning English. Having taught for years in Argentina, he approached literacy coordinator JoAnn Butler two years ago about starting a Spanish course.
"I thought it would be an unusual program," said Butler, who heads the Dudley Literacy Center's staff of three.
It's unusual, she said, because the center's focus is normally on helping people grow into English speakers and develop their English language skills. The Dudley Literacy Center offers English classes and conversation groups, as well as a variety of other resources. Adults learning to read, write or use computers can get tutoring help, and assistance is available for those preparing to take GED and U.S. citizenship tests.
But Butler said they had received requests for Spanish classes from local residents who could use Spanish in their jobs. She agreed to run the class.
"I thought it would be a good service to the neighborhood," she said.
As the Spanish program began its second year last fall, Bernava was gratified to hear the class had a waiting list. He added another beginner section and an intermediate class.
Bernava said his teaching approach is the opposite of how he learned English.
"I learned English here in the United States. I started with the grammar," he said. "That was very hard for me, very complicated. I needed to translate everything."
Instead, his classes emphasize conversation and practice.
"I think the people enjoy it," he said. "They learn a lot. I start to speak slowly in the first three months, and now I say the same thing, faster — and they understand me."
Bernava uses exaggerated gestures to illustrate without translating.
"Hoy es viernes…," he begins. Today is Friday. He points with his thumbs back over his shoulders to indicate, "What came before?"
Changing topics, he gives an order in Spanish: "Take a marker and draw an orange triangle."
A student goes to the whiteboard, picks up an orange marker and draws a triangle. Her classmates applaud. "Very good!" Bernava says.
It sounds like preschool, but these adult students show no self-consciousness about that. They are beginners, and they know it. They appreciate these building blocks.
"I like that it's different," said Roland Matsouaka, 35, a native French speaker from the Democratic Republic of Congo who studies biostatistics at Harvard University. "Not grammar, grammar, grammar — but learning the language as kids learn it."
Dorothy Smith, an MBTA bus driver from Charlestown, first enrolled with her 5-year-old grandniece who wanted to learn Spanish. The little girl soon tired of being the only child at the table, but Smith was hooked.
"I pick up a lot of people on my route that speak Spanish," said Smith, 53. "Right now, I'm still struggling. I know what they're saying, but I don't know how to respond yet. So I just listen in and try to pick it up."
She said she has also taken to reading El Planeta, a local Spanish-language weekly newspaper.
"I'm very pleased with the class, very happy," she said. "I'm thinking that one of these days I'm just going to start speaking Spanish, and I won't even need to think about it."