Building a bridge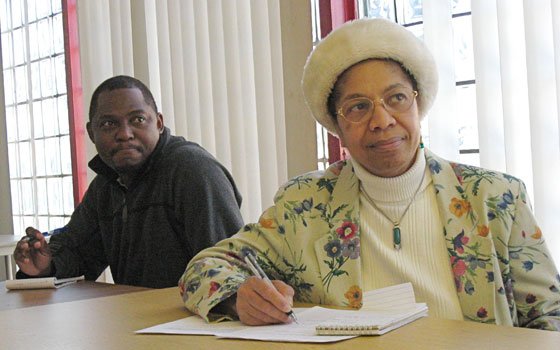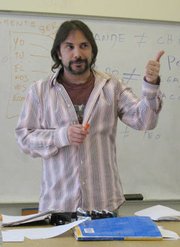 At Dudley center, drive to learn spans barriers
It's 9:50 on a Friday morning, and sunlight filters through the tall glass-block windows of a classroom in the Dudley Literacy Center. In the high-ceilinged room, volunteer teacher Fernando Bernava clears a whiteboard, readies his teaching materials and waits for his first group of beginning Spanish students to trickle in.
"¡Hola! ¿Cómo estás?" he calls out as they arrive, challenging each one to return the greeting. He persists, drilling them with basic conversation ("What is your name? Where are you from?") and having them direct the same questions to a classmate.
For the next three hours, Bernava, a youthful 42-year-old with brown hair that flows down to his shirt collar, works with high energy and a broad smile to impart Spanish conversation and pronunciation skills to three groups of adult learners.
"You never know when you'll use Spanish," said Bernava, a native of Argentina who came to Boston with his family in 2001 to be near specialized medical care for one of his children.
"This is good for Spanish speakers and English speakers," he said. "It's building a bridge."
At Dudley Literacy Center, the bridge goes both ways. A volunteer teacher brings a diverse set of students closer to Spanish, while the center strives toward its wider mission to bridge other gaps — in literacy, English knowledge and basic computer skills — that prevent people from participating fully in society. Communication is an integral part.
Bernava teaches three classes in a row each Friday. He receives no pay for the classes, which are offered at no charge to students. But he said he is passionate about his mission of connecting cultures.
His students range in age from mid-30s to over 60. They are white, black, Asian. They come from all over Boston, arriving in Roxbury's Dudley Square by bus and by car.
In one class, a priest from South Boston sits across the table from a retired grandmother from Mattapan. In another, a biostatistics graduate student, a bus driver, an artist and a nursing home volunteer share laughs as they struggle to remember new vocabulary words.
"I want to be bilingual," said student Betty Pasley, 54, who lives in Hyde Park but works as a tax preparer near Dudley Square. "I had said for years, I want to be bilingual by 55."
While she's not yet able to converse with Spanish-speaking clients, she said, "I can give them our hours, at least." She used to tune out when she didn't understand the language.
"Now I tune in," she said.
Pasley told her friend, Rosa Allen of Mattapan, about the class, and the two attended the Friday morning meeting together.
"I love the language, and I need to keep my brain occupied," said Allen, 56, who described herself as a housewife.
"And a granny," her friend added.
Maureen Leonard, 60, a property manager and artist, said she hopes to travel to Spain. But she is using her Spanish already, without leaving town. She speaks the language with a Guatemalan classmate in an art class she attends, and said that knowing a few Spanish phrases has allowed her to give — and receive — a helping hand.