Destroying a legacy
3/23/2009, 9:21 a.m.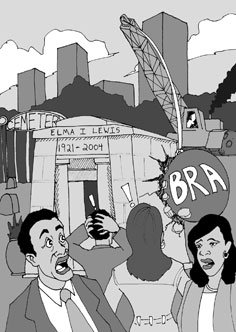 Destroying a legacy
Elma Lewis is just five years in her grave, and the city has already launched a campaign to destroy her legacy. Roxbury community pride must prevent this from happening.
All of Ms. Lewis' professional life was spent working to elevate the level of cultural awareness in her beloved Roxbury. In 1950, she established the Elma Lewis School of Fine Arts to provide formal training in dance and music. In 1967, she organized the Playhouse in the Park, where such outstanding musicians as Odetta, Billy Taylor and Duke Ellington performed. And in 1968, she started the National Center of Afro American Artists (NCAAA), which was to include visual arts, dance, music and theater.
The NCAAA on Walnut Avenue now functions primarily as an art museum and has co-sponsored significant exhibitions with the Museum of Fine Arts. But Ms. Lewis' vision was to establish a major cultural center in Roxbury, complete with a museum, classrooms for dance, music and fine art instruction, and a performance venue.
Ms. Lewis was nationally recognized for her work. In 1981, she received a MacArthur Fellow grant. In 1983, President Ronald Reagan awarded her the Presidential Medal for the Arts. She also received honorary degrees from Emerson College, Harvard University, Boston College, Colby College, Anna Maria College, Salem State College, Regis College, Merrimack College and Clark University.
Ms. Lewis brought honor and distinction to Roxbury, but she did not live long enough to build the cultural center she envisioned. Fortunately, Edmund Barry Gaither, executive director and curator of the Museum of the NCAAA, and the center's board of directors have assembled a team to carry out Ms. Lewis' legacy. They have crafted a proposal for the 8.7-acre site on Tremont Street opposite Boston Police Headquarters known as Parcel 3. The project would include housing, office space, parking, some retail and medical space, and most importantly, a new home for the NCAAA. Later, there would be a 1,200-to-1,600-seat performing arts center.
Elma Lewis Partners LLC and all competing developers submitted their plans for review by the Roxbury Strategic Master Plan Oversight Committee, and the Elma Lewis proposal was unanimously selected. African Americans were elated to learn that there were plans to establish a world-class cultural center in Roxbury. However, Mayor Thomas M. Menino did not share their enthusiasm.
According to reports, Menino became enraged when he learned that the oversight committee had selected the Elma Lewis group to be the parcel's developers. His opposition to the Elma Lewis plan is significant. Menino has the reputation of being a "can-do" mayor. His support assures the success of even the most imaginative projects. Unfortunately, his opposition creates a serious obstacle.
The dilatory conduct of the Boston Redevelopment Authority (BRA) indicates Menino's displeasure with the Elma Lewis project. The unanimous oversight committee approval came on May 7, 2007. The BRA board granted its approval on June 21, 2007. But the License Agreement that would authorize the developer to take control of the site for surveys and other preliminary operations was not received until June 13, 2008, one year after BRA board approval.
The Elma Lewis group's requests for the License Agreement were ignored by the BRA. In fact, a request for an extension of time to perform preliminary tasks was denied by the BRA — even before the agency had sent the License Agreement necessary to perform the tasks.
Delays for cause are routinely approved by the BRA. In a Nov. 20, 2008, editorial, the Banner listed eight major construction projects that had been halted because of the banking crisis. To that number, add Harvard University's projects in Allston and the Jackson Square development in Jamaica Plain.
BRA Director John Palmieri has expressed a willingness to extend the permits for the Jackson Square project, but he is disinclined to afford the Elma Lewis project the same courtesy.
Menino controls the BRA. He has disrespected Elma Lewis' legacy and the black community. That cannot be tolerated.