Brazilian teen with rare lung cancer beats the odds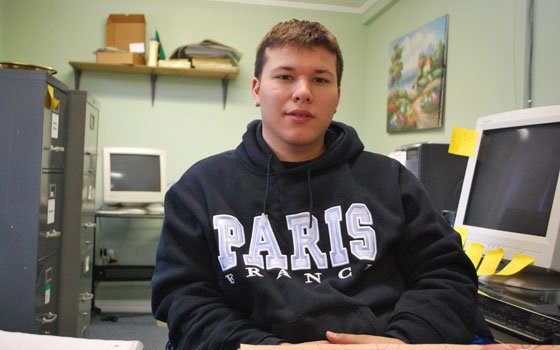 At home, pastor Juarez Gonçalves, Sam's father, took a six-month leave of absence from the pulpit.
"As a pastor, I used to pray for people to believe in God. Now it was about me. So I could not be dishonest with God, the community or myself," said Gonçalves.
The first months were the hardest. But the community's support was just as great. The City of Medford organized a fundraising event for Sam, which resulted in $10,000 to buy him a new car, a crucial psychological support to keep him looking forward to just surviving and not dying.
At least 40 churchgoers took turns at hospital prayer vigils. As the family routine turned upside down, some friends would cook for the Gonçalves. Others would clean their home.
"In between chemo sessions, we chatted for hours, about anything but the disease," said Talita Cristiane Morais Santos, 20, one of Sam's closest friends.

Federal policy dilemma
The first cycle of chemotherapy took a toll on Sam's deteriorating health as he went through dramatic weight loss. The pain was so unbearable that the chemotherapy had to be stopped, and Sam was rushed into surgery.
The goal of the chemo was to reduce the tumor; instead it began to bleed and became inflated, pushing Sam's heart toward the right in his chest cavity.
As he was rushed into surgery, Sam's doctor warned him that his chance of survival was 50 percent.
"Prior to the surgery, he said, 'I don't want to talk. I need to retain all my energy for the surgery,'" his father recalls.
"For a cancer this rare, nothing in his treatment was considered normal procedure," said Choy.
The 12-hour surgery successfully removed Sam's entire left lung. He was then scheduled to receive seven weeks of daily radiotherapy.
His family was facing another dilemma: how to pay for Sam's medical care.
It was February 2007, and the State Children's Health Insurance Program (SCHIP) was no longer active. When the SCHIP federal law had been in effect, it enabled eligible kids to get health care coverage if their parents earned too much to qualify for Medicare, but too little to afford private insurance.
Sam didn't qualify for government-paid health treatment that required at least five years of being a green card holder. Sam was two years shy of the requirement.
Sam's father added him to his health insurance coverage for nine months, at an additional cost of $560 per month. The insurance covered the full $180,000 cost of Sam's emergency surgery.
But other medical costs were only covered for 80 percent, leaving Sam's family to pay the remaining 20 percent, or $50,000 — a medical debt that still haunts them two years later.
Community support remained high as e-mails and letters poured in from Argentina, Paraguay and Panama. The father of a local friend visited a church in Boston to pray for Sam. When he approached the pulpit to deposit a little note with the soccer player's name, Sam's father recalled, he noticed that nine other people had done the same.