Hub hoops coach pens book for young ballers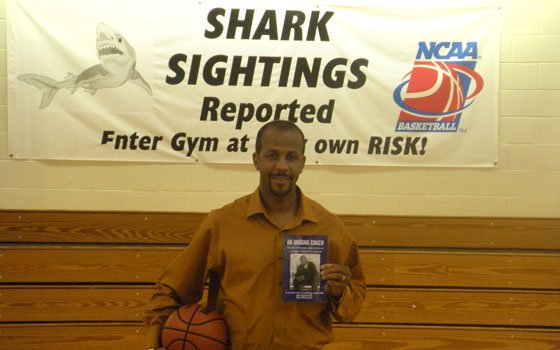 Tony Price wants to reach young athletes — especially young black athletes.
In his new book, "An Unsung Coach Hears Through the Noise of a Black Athlete's Dream: Lessons on Coaching and Life," Price mines his own experience to show young black athletes that there is more to life than just sports.
Price is the assistant athletic director and head women's basketball coach at Simmons College.
The book's title says a lot about what Price wants to communicate. Price explains that "unsung" refers to those who remain in the background but play key roles, while "through the noise" emphasizes maintaining focus amid the confusing messages that often face black athletes as they become successful.
"Black athletes need to see beyond sports to how sports can help in life," said Price.
At Simmons, the coach is sharing his knowledge on a local level, but hopes the book will allow him to bring his experiences to a broader audience.
Raised in Boston, Price grew up in Mission Hill and attended West Roxbury High School. As a boy, he played baseball until the age of 11, when he started to grow into his eventual 6-foot-6 basketball player's frame.
"The taller I got, the more people pushed me toward basketball," he said.
As he grew, so did his passion for the game. Because there were no basketball courts near his home, Price set up a makeshift basketball hoop using a milk crate and a lamp post. He would watch professional basketball and attempt to emulate their skills — "I wanted to be Dr. J," he recalled.
Starring on the hardwood through high school, Price thought he had enough skill to potentially make a living through the game.
"I had a goal to provide a better life for my family," Price explained.
But once he went to college, Price realized that the odds were against him becoming a professional player. Price attended Worcester State College and majored in media communications.
He left Worcester State after three standout years and headed overseas in pursuit of his hoop dreams. He played in semi-pro leagues and had a two-week overseas tryout for European basketball teams in Belgium, Iceland and Germany.
Price had some success overseas, but decided not to stay because of the cost and the cultural differences. Returning home, he opted to attend free-agent tryouts for various U.S. professional teams.
At these tryouts, Price said, he would often see the same faces from other open tryouts, including ex-professional players who had been cut and were trying to make a roster. Seeing the ex-pros made him realize how much of an uphill climb he faced.
"I came to understand that it would be difficult for me, at the bottom, to make it to the pros if someone who was at the pinnacle was trying to do the same thing," said Price.
Price began to look for other ways to stay involved with the sport he loved, and started to consider coaching as a way to pass on his knowledge. He understood how the encouraging words of a coach could make a difference, recalling a moment from his youth when he played on a local summer basketball team.