Black blog forum explores Web as social change agent
Talia Whyte | 6/24/2009, 6:45 a.m.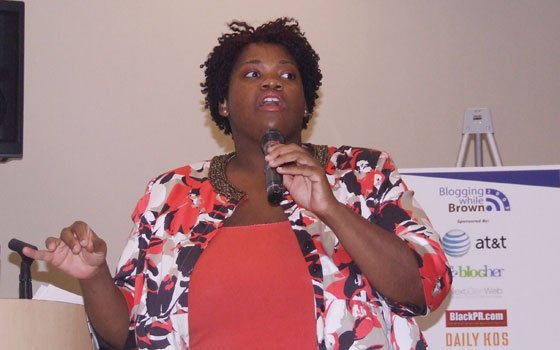 "Our blogs are read all over the world," Contee told attendees. "You would be amazed by who is reading you."
There was also discussion at the conference on how the black blogosphere will hold Obama and other black politicians accountable on domestic and international issues, such as education, the war on terror, environmental justice, drug and criminal reform, and still-rising unemployment.
While a variety of concerns were debated, many suggested that the next digital battle might focus on ensuring Internet accessibility to all.
According to Megan Tady of the media reform group Free Press, only 40 percent of Americans have broadband Internet access. Statistics compiled by market research analysis firm eMarketer show that 55 percent of African Americans are online. Mobile technology is a widely used tool in this demographic, and text messaging was used by Katrina survivors after the storm.
The conference also touched on major upheaval in the world of professional journalism caused by the online explosion. Veteran journalist and blogger Monroe Anderson said he was first exposed to the Internet when he was still a columnist for the Chicago Sun-Times. Now a contributing columnist at http://www.ebonyjet.com, the daily online magazine from the publishers of Ebony and Jet, Anderson said he is excited about to potential uses of social media by journalists.
"Journalists usually write the first draft of history, and the Internet presents more opportunities to tell stories," he said.
However, many conference attendees criticized news outlets that have been slow to embrace social media — especially the black press.
Eric Easter, chief of digital strategy for the Johnson Publishing Company, which publishes Ebony and Jet magazines and operates http://www.ebonyjet.com, received heavy criticism from some attendees for what they say are a lack of relevant topics and social media engagement on the site. Easter said the Web site is still a work-in-progress, adding that in producing both Web and print content for the two venerable publications, the changing financial landscape in the media has to be taken into consideration.
"I think there is still room for print, but the business model has changed," he said. "Newspapers and magazines have to think of a new way to attract readers."
The project may have a long road ahead. When Contee asked the audience how many of them read the Ebony/Jet Web site, no one raised their hands.
As the debate over how old media outlets can stay relevant continues, leaders of color in new media keep building their community and taking advantage of the moment — one blog post, tweet and YouTube clip at a time.
"It's important that black bloggers work together," Contee said. "There really is power in numbers and diversity."