Looking back to move forward
6/23/2009, 10:50 a.m.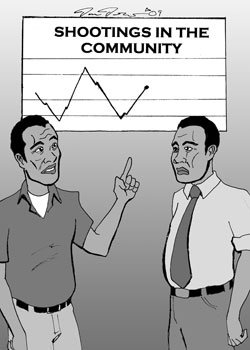 The murder count for Bostonians age 25 or younger fell from a high of 69 in 1990 to 17 in 1997, and it stayed in that range through 2000, the period of "The Boston Miracle." Then the numbers began to move up again. Mayor Thomas M. Menino had laid off the street workers and rejected donated funds to finance the program. Then he failed to implement the recommendations of the 1992 St. Clair Commission to establish an effective citizen police review board. This is one of the issues that caused the police to lose the trust and cooperation of the black community.
Between 1998 and 2008, there were 303 murders in Area B, which includes Roxbury, Mission Hill, Mattapan and North Dorchester, according to Turner's homicide study. There have been no arrests made in 194 of those murders. This is a closure rate of only 36 percent. Now a perpetrator has a 2-to-1 chance of pulling off a murder in the black community without apprehension.
Professors James A. Fox and Marc L. Swatt of Northeastern University published a report last December, entitled "The Recent Surge in Homicides Involving Young Black Males and Guns." Their conclusion suggests that youth violence among blacks "… could worsen in the years ahead as the population of at-risk youth (blacks and Hispanics) grows …" One must wonder whether Menino would be up to the challenge.