UMass policy seminar looks at changing face of poverty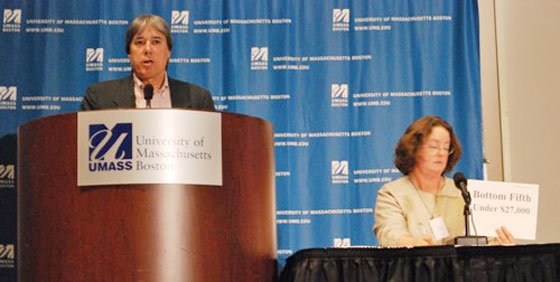 Today, however, only half of U.S. households consist of married couples, compared to 85 percent in 1960 and 79 percent in 1930, according to U.S. Census data.
Also according to the Census Bureau, white, non-Hispanic Americans, who accounted for 88 percent of the U.S. population in 1940, today comprise 66 percent. While the official foreign-born population has remained at a steady 12 percent for the past 70 years, some question that static number, as most undocumented immigrants do not typically respond to the Census.
At the UMass-Boston seminar, panelists were afraid neither to touch a nerve by identifying what they saw as class differences, nor to argue the fact that minorities need increased access to wealth and services.
"When asked about class warfare, Warren Buffett [reportedly] said, 'There is a war, and my side is winning'," Collins said.
For Albelda, the current set of state and federal anti-poverty policies are too costly.
"[President] Obama loves to say, 'We need 21st-century policies for the 21st century.' How about modernizing anti-poverty policy?" Albelda said. "That includes streamlining the process for applying for services, addressing the issue of work benefits and pushing for an increase in income eligibility.
"I guess I could suggest we should dismantle [anti-poverty programs] and build them up again, but I'm too afraid," she added.
Turning attention to the poverty divide could pay dividends locally, as well, according to Albelda.
"If Boston could address the issue of poverty, I am convinced we could solve the problems of Boston Public Schools," she said.
Another key poverty-related issue, according to Michael Stone, is housing inequality in the United States. Extending all families the chance to have a shelter should be guaranteed as a right, he said, but instead in our society, they need to be purchased as a commodity.
"There's a widespread view that housing discrimination is a thing of the past," said Stone, a professor of public and community service at UMass-Boston. "But evidence shows that, on average, households of color get less for their money in terms of housing in neighborhoods than the white households of same income."
Stone also touched on what he considers to be myths about homeownership.
"One: you're always better off as an owner than a renter," he said. "Myth number two: that homeownership is a sound and reliable way to build wealth. Three: that property values always go up — at least as long as you can keep undesirable people from your neighborhood.
"Four: that homeowners are full citizens, real Americans, but renters are not," he added. "And five — the biggest myth — is that homeownership provides the illusion of ownership through the reality of debt."
To bridge the housing gap between affluent and low-income Americans, Stone suggested a new tax of a few tenths of 1 percent on all capital market transactions, such as stocks, bonds, mortgage securities and derivatives.
"With few tenths of a percent, folks, we can raise a couple of hundred billion dollars and expand the amount of debt-free housing by a million units a year," he said.