Rox twist on Bard sets 'Much Ado' post-WWII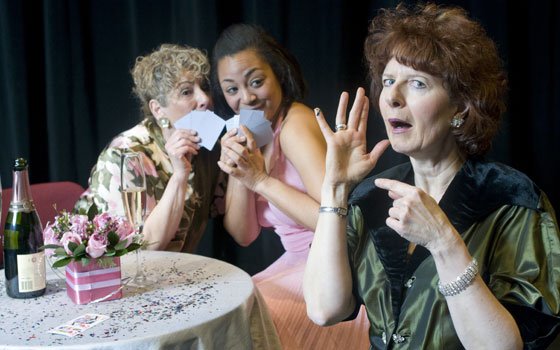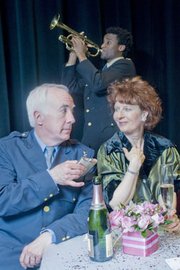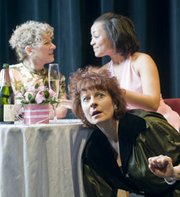 A man plays a plaintive saxophone solo while a woman under soft light listens in the background, the large white flower behind her ear evoking Lady Day's gardenia. Although the scene conjures a duet between Lester Young and Billie Holiday, the two are Don Claudio and Hero, the young lovers in William Shakespeare's "Much Ado About Nothing."
Such jazz-inflected moments inject shading and depth into the Actors' Shakespeare Project's (ASP) infectious but hyperkinetic production of the romantic comedy, playing through Sunday, June 14, at the Roxbury Center for Arts.
Directed and designed by ASP Artistic Director Benjamin Evett, the production transfers "Much Ado" from 17th-century Messina, Sicily, to a post-war '50s America. The setting resembles a party on a cruise ship. Faithful to the subject of the play — human folly in love — this is a ship of fools, traveling through a tale that explores how hearsay and appearances can mislead even the wisest of men and women.
Making the most of the two-story ballroom at the center in the handsomely renovated Hibernian Hall, the set is simply open floor space encircled by the audience, who sit at round tables, cabaret-style. The set consists of three linen-covered tables festooned with balloons, party hats, flower-filled vases and bottles of champagne that later become handy props for body parts, disguises and hiding places.
In this artfully pared-down production, live trumpet solos suggest the bittersweet current within the play's slapstick scenes, melodramatic moments and verbal battle of the sexes. (The original play's musician Balthazar is distilled here into a nonspeaking trumpeter, played by either Giselle Ty or David Oluwadara, depending on the performance date.)
En route home after military victory, Don Pedro and his men visit Leonato, the governor of Messina, played regally by Johnny Lee Davenport. Leonato's home becomes a place of transformation where, through a series of ruses and counter-ruses, an old liaison is rekindled and a new one consummated.
As the visitors arrive, their messenger tells Leonato, his daughter, Hero, and his niece, Beatrice, of the young officer Claudio, admired for "doing, in the figure of a lamb, the feats of a lion."
The first words that Beatrice speaks are to ask about another officer, Benedick. But as soon as she hears of his feats, she makes a disdainful comment about him. Leonato explains to the puzzled messenger, "There is a kind of merry war betwixt Signior Benedick and her: they never meet but there's a skirmish of wit between them."
The play as a whole is a game of decoy. It seems to be about Hero and Claudio, who instantly fall in love. The gifted Kami Rushell Smith, a 2009 graduate of the Boston Conservatory with a master's degree in musical theater, brings a natural sweetness to Hero. Sheldon Best, who was outstanding in the recent Boston Playwrights' Theatre production of "The Oil Thief," is an entirely credible Claudio. More lamb than lion in matters of the heart, callow Claudio may be the least appealing lover in Shakespeare's canon.