Boys learn how to lead at Hub school conference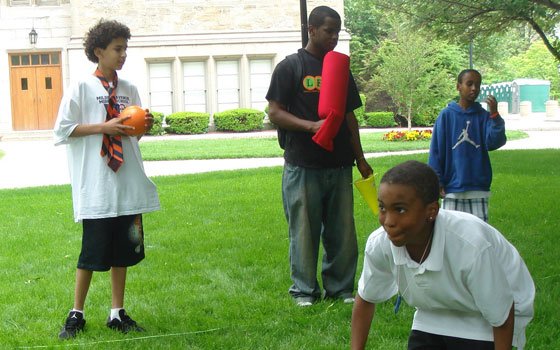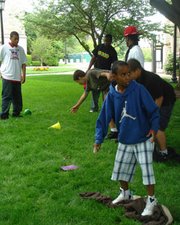 The lyrics may sound tough, even individualistic — "I'm blazing like the sun, 'cause I'm number one / With my skinny jeans, rockin' with my Air Force Ones" — but they were written in a spirit of collaboration.
The pulsing, up-tempo track, complete with anthemic chorus, features rhymes written collectively by 120 students and put together during the one-day Boston Public Schools (BPS) Citywide Middle School Boys' Conference, held last Saturday at Boston College.
Now in its seventh year, the conference involves 20 local schools and is intended to expose students to a college campus while encouraging them to think about leadership and decision-making.
Senior Tristan Campbell took part in the conference as a mentor, leading students through problem-solving games in which they had to find ingenious ways to obtain objects placed in the middle of a circle.
"The kids stand on the outside of the circle and the objects in the middle represent their goals, what they want in and out of life," Campbell explained. "They have to figure out how to reach the objects without touching the ground inside the circle."
Some young men attempted running leaps to the middle of the circle, while others stretched into plank positions to reach the objects. After several unsuccessful runs, the group put their heads together.
"At first they just ran right into the circle, and there was a lot of confusion until they decided to collaborate," Campbell said. "They came up with a plan to help each other out."
Using rubber balls to move the objects and calling out suggestions to each other, the group eventually rescued all the objects from the circle.
The combination of physical activity and creative thinking is designed to get students' bodies and minds working, according to Jesse Leavitt, a coordinator for the BPS' Leaders in Education, Action and Hope program, or LEAH.
This theme continued during the student panel that Leavitt helped organize, in which a smaller group of young men heard advice from three high school students about balancing athletics and academics, and how to handle peer pressure.
Campbell, who spoke on the panel, described the demands of juggling Advanced Placement classes with varsity baseball.
"I have a game ending at 6 [p.m.], I come home and I want to eat and sleep. I don't want to do anything else," he said. "It takes more than a love for sports, because too much of one thing isn't good for you. It takes commitment."
Eighth-grade students Gary Gonzales and Jermaine Maddrey also appreciated the mingling of school and play during the rap lyrics-writing session. With assistance from Cambridge-based educational rap company Rhythm, Rhyme, Results, or Triple R, the young men wrote lyrics riffing on what summer means to them and took turns recording verses of the song.
 "They were talking about ELA [English Language Arts] and I liked that, because we were learning that in school and I could commit to it," Gonzales said. "And when we started talking about summer, I was picking up stuff that I liked and that my group liked."