Olympic great Moses gets honorary UMass degree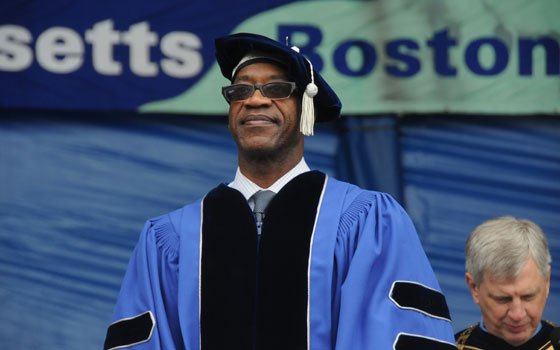 "Those guys were runners, [and] they made a statement," Moses said. "It really inspired me because I saw black men making a statement heard and seen all around the world."
The image stuck with Moses, who now heads up the Laureus Sports World Academy, a group of 45 world-class athletes who travel the globe to address social issues. The academy now has 70 active projects in 40 countries. As chairman, Moses designs and implements programs that use athletics to teach a variety of lessons, including the importance of rooting the use of performance-enhancing drugs out of sports.
Coming home from one Laureus trip in the first week of March, Moses received a letter in the mail from UMass-Boston about the honorary degree.
"You always get bills and bad news in the mail," Moses joked. "The UMass letter came out of the clear blue sky."
In town for two days, Moses spent the time meeting with UMass-Boston alumni, faculty and staff, as well as coordinating the arrival of friends and family, who traveled from as far away as London to witness the festivities.
While Moses said he is grateful to be recognized for his accomplishments, he remains humble. His mother, Gladys Moses, however, has no problem bragging for her son.
"[He] is receiving kudos that he has earned and just now being recognized for," she said. "He's done so much and given back to the sport … he's able to affect so many lives through his example."