Professor pushes for green jobs to reduce poverty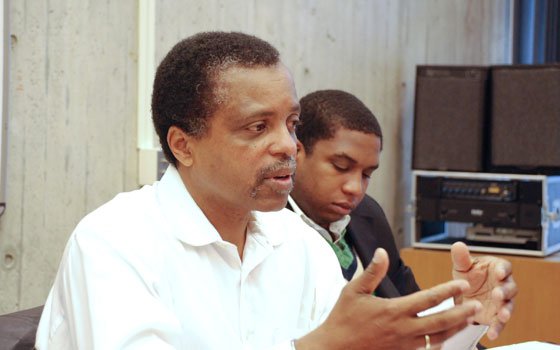 In late June, Mayor Thomas M. Menino spent a week making announcements about "green collar" training programs and jobs. Even before that, Thompson was skeptical how much the city would accomplish.
"I think money will be spent in Boston for weatherization and other things labeled 'green,'" Thompson says. "The question is whether the city and state will leverage governmental money to bring in private sector dollars to expand the number of buildings that are retrofitted. Retrofitting pays for itself over time, so you can attract a lot of private money.
"The second big issue," he adds, "is the quality of jobs that get created — are we talking about union jobs? — and who gets those jobs."
Thompson, 53, is an academic with firsthand experience in urban issues. After receiving a bachelor's degree from Harvard University and a master's degree and doctorate from branches of the City University of New York, he worked as a deputy general manager of the New York Housing Authority and director of the Mayor's Office of Housing Coordination in the nation's largest city. Then he returned to Boston, arriving at MIT nine years ago.
After Hurricane Katrina, Thompson coordinated MIT-sponsored projects in New Orleans, working with the local building trades and community groups to build affordable housing and create jobs. The construction unions there, he says, showed interest in reinventing themselves and bringing into their ranks more workers of color.
That was when his academic work and public advocacy hit the green path.
In November, Thompson was one of three conveners of the Emerald Cities Collaborative, a national partnership of building trades, community action programs and job training programs collaborating to upgrade energy systems in metropolitan areas and to make sure the money spent doing it is spread around equitably.
The national collaborative, where Thompson has been focused, plans to get started on local public-private partnerships in 14 cities. He says they are likely to include Atlanta, Cleveland, Detroit, Los Angeles, Louisville, Minneapolis-St. Paul, New York, Oakland and San Francisco.
"Our thinking right now is we will not target Boston in our initial round of cities," he says. "We can't make rapid progress without the mayor being engaged and without the building trades being engaged. Boston has a history of racial antagonism, and the building trades have been a part of that, so there has to be some leadership."
Frank Callahan, president of the Massachusetts Building Trades Council, could not be reached for comment. But Doty, the city official, said relieving unemployment among current members of the building trades is "the first obligation" of the unions. As of December, 26,000 construction workers were jobless in Massachusetts, she said, most of them concentrated inside I-495 and I-95.
"You have a lot of idle labor, highly-trained labor, so if opportunity comes along, you're going to go to these people first" instead of training new apprentices, Doty says.
But the New England Carpenters Union, she said, has been amenable to a partnership with a private entity to train new workers to do energy audits and remedy any problems detected at the lower wages paid for residential jobs. Most unionized workers in the building trades work on large commercial projects.