Jackson's complex color story transcended race
Associated Press | 7/1/2009, 6:59 a.m.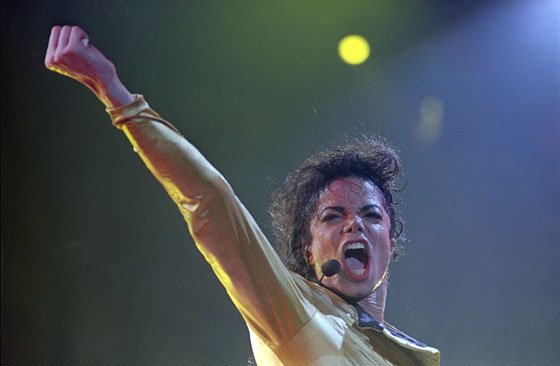 Michael Jackson had a complicated relationship with his blackness.
By the time his last smash hit, "Black or White," was released in 1991, many people wondered if the song title applied to Jackson himself.
But those who knew him well say he always maintained his black identity. And as a trailblazer for a new breed of global multimedia stars, he helped create an era in which race was a piece, rather than the definition, of a person.
"I think that Michael really, in his career, just transcended race. His work and his life [were] sort of about undefining race," said Bill Bottrell, who co-produced "Black or White" and worked closely with Jackson from 1986 into the early '90s.
"He obscured the issue, or obscured it at least as far as he was concerned, or just transcended the issue," Bottrell said. "I watched him with his friends. They came from all walks of life. He certainly surrounded himself with lots of African Americans, also a lot of white people, including me."
Jackson grew up in hardscrabble Gary, Ind., performing with his brothers. The Jackson 5 were weaned on rhythm and blues, a name coined in the 1940s to describe the fusion of several black music styles with a new instrument, the electric bass.
The first Jackson 5 album was released in 1969 on the Motown label, which carved a place in history by making black music safe for white people to enjoy. Jackson was an instant child star. In 1975, he moved to Epic Records, a division of CBS, and hit the solo stratosphere in 1979 with his album "Off The Wall," an irresistible combination of funk and pop music.
It sold 9 million copies, the most by any black performer up to that point. On the album cover, Jackson has a puffy Afro, and his skin is slightly darker than the brick wall behind him.
"There really were two phases to the career of Michael Jackson," said commentator and community activist Earl Ofari Hutchinson.
"There certainly was a relationship with and an identification with African Americans — music, dance, lifestyle, his performances," he said. "That was essentially black music. That was, quote-unquote, the black Michael Jackson."
His next album was 1982's "Thriller," the biggest record of all time, which has sold 50 million copies worldwide. He was the first black artist to get video play on the fledgling MTV network, and became one of the most famous people on the planet — of any race.
"He was beyond a skin color. It was about the message in his music. That's why people related to him," said DJ Spinna, who produces parties in the United States and internationally showcases Jackson's music.
Yet the wider Michael Jackson's fame spread, the whiter his appearance became.
Jackson said he had vitiligo, a disease that produces white splotches on the skin. He compensated with treatments and makeup that turned his overall complexion lighter and lighter, to an extent never seen before in a black celebrity. Serial surgeries kept altering his facial features.